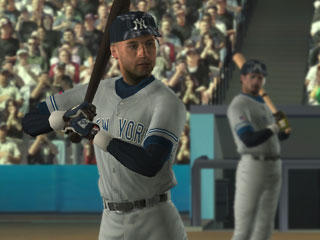 Acclaim's All Star Baseball series has always been one of the leading console baseball franchises and this year's edition looks to continue that legacy with a robust features list, extensive stats, and some unique modes available that set it apart from the pack. The comprehensive approach includes some huge improvements for the upcoming season with better graphics, deeper stats and more sophisticated AI the biggest changes. The Laser previews this title and sees how this veteran series will fare in theis year's baseball battleground.

This has always been one of the leading baseball titles for consoles and this year's installment, coming for all the major platforms (PS2, Gamecube & Xbox), looks to keep Acclaim at the head of the pack. ASB 2004's most touted new feature this year will be the inclusion of some online components. This new game will allow players to download roster updates. As usual, Yankee slugger Derek Jeter has been enlisted as the title's spokesperson.
However, Jeter won't just appear on the cover and has been quite involved in the game itself, contributing both strategy and appearing in the game to offer players advice. He also appears in numerous multi-media cutscenes including a stadium tour where he describes each stadium and interesting facts about each of these fields. This will be an extensive simulation that should reproduce every detail of the sport. More than 200 home, away and classic uniforms will be included. There will be 50 playable teams, 75 stadiums, and 20 unlockable teams just for a start.
ASB will include all the standard modes such as the Season, Playoffs, World Series, All Star Game and, Home Run Derby. An extensive management Franchise mode will also be included which will allow you to trade players and manage your payroll from Spring Training to the World Series. You'll also be able to get players by grabbing them in the amateur draft. The game will also include a new rookie mode where you can learn the skills, with video introductions by Jeter himself that will offer players tips.

Another incredibly impressive feature in ASB 2004 is that it will also include a new Scenario mode where you can relive actual game situations and try to recreate these great moments yourself. This allows you to relive a tense moment from last year's world series or make a stunning come from behind victory. Additionally, there will be a cool Legends mode that will allow you to control some of the game's greatest figures including Babe Ruth, Ty Cobb and Lou Gehrig complete with original uniforms, with more than 110 classic characters in all. Players can now play a pick up game, for a more casual experience with less stringent rules. Interestingly, ASB 2004 also includes the much-neglected Negro Leagues with famous players included such as Satchel Paige, Josh Gibson and Buck O'Neil. In addition to classic players and today's stars, you'll be able to create a save your own player and save them as well.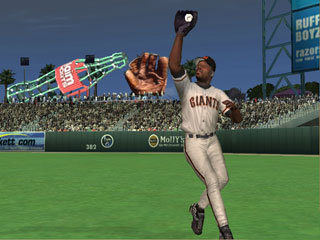 ASB 2004's graphics engine has been given an extensive overhaul, as evidenced by the new front-end graphics that feature some cool bobble-head dolls and an extensive multimedia section. The game's AI has been improved as well with better fielding, batting and baserunning engines. Add in a variable strike zone, better umpires, improved bunting, more extensive stats and season records and you have an incredibly deep title that offers a lot of depth. ASB has also implemented a revised scouting system, and deeper coaching AI to make things even more realistic. The ball physics, player modeling and camera angles will also be vastly improved to enhance the game's already slick look. New batting and pitching interfaces will also be implemented that should add to the already sleek appearance.



The in-game graphics have been given an extensive overhaul with new hand and fielding animations that should lend the game an almost unmatched realism. All the major league parks past and present will be reproduced faithfully with some impressive water and particle effects adding to the authenticity. ASB's presentation will be enhanced in many areas and will include different angles for batter walk-ups, changing crowds that differ with stadium and weather, better stadium renders including retractable roofs and weather effects. The level of detail will extend to different music introductions for each player. Additionally, you'll have a lot more options such as changing the language of the play-by-play announcing from Spanish to English. One of the best features is the in-game save which will allow you to save your progress without having to sit through the entire nine innings.

This sounds like a lot of new features, but the list just scratches the surface of All-Star Baseball 2004.The gameplay should retain the series legendary mix of arcade style play with deep realistic depth. While there are loads of Major League Baseball titles coming from many different publishers, only a few match the title's ambition. With such a deep and intelligent design, it looks like Acclaim's newest ASB will once again thrill fans with its unprecedented depth, outstanding graphics, multitude of game modes, innovative control system and strategic play. This is definitely one of the most-anticipated sports titles and it looks like the game will more than fulfill expectations.

> Related Previews

Preview: MLB 2004 (PS2)