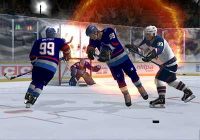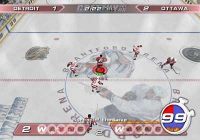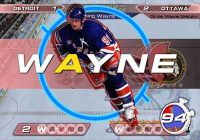 989 Sports has strived to improve their franchises over the past two years and the latest example of this progress has been the Gretzky series, which has benefited immensely from his presence. Last year's NHL strike may have sent 2005's edition to the sidelines, but further improvements such as the new Wayne vs. Wayne mode, improved team chemistry, a deeper franchise mode, and a new rivalry mode add to the depth and enjoyment. Join us as we hit the ice and see why Gretzky NHL 2006 the best in the series yet.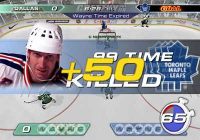 With the National Hockey League's myriad of strike-related problems behind it, and new rules in place to make for a more exciting game, now is probably as good as any for sports fans to check out some of this year's hockey titles. It doesn't have the heritage of some of the other franchises on the market, but 989 Sports has made some pretty serious strides over the past few years. The polish and depth evident in Gretzky NHL 2006 is another reason why the company deserves to be taken seriously. While Gretzky is the only game on the market to feature the great one, it also has fully licensed the NHL teams, players, and logos and also features international plus more than 30 AHL league teams. Players will also find actual NHL coaches and all the arenas faithfully reproduced as well. If all this isn't enough, you can also create your own team and roster, and see how they'd stack up against the other professional teams. The game itself plays solidly with excellent controls that make moving and controlling the players on the ice much smoother than in previous installments. The gameplay itself has a fast, breakneck pace that reflects the actual speed and excitement of real world hockey. Players can choose from a number of defense and offensive strategies before each game and are also able to set the level of difficulty and aggressiveness. You can tweak the penalty calls, and the disposition of the referees to make sure your opponents play a clean game or make them passive if you want your hockey down and dirty.
In order to win back fans, the NHL has changed a number of rules this year, and the game reflects these changes and also lets further tweak the action by turning rules such as Icing and Off sides rules on or off. Players can choose from a number of modes ranging from an arcade style quick match with few rules, to a more accurate simulation of an entire season. You can go even further with the franchise mode that allows you to run a team's front office operations, trade players, negotiate contracts, hire coaches and decide which draft picks to make. There's also customized tournaments available that allow you to create your own leagues and rosters with up to 64 teams. There are also several multiplayer modes and online support where you can use your USB headset, enter online tournaments, and download updated rosters. In addition, gamers can create their own custom players using the create-a-player mode and even insert their faces onto their bodies using the EyeToy peripheral. The game also lets you set up a rivalry with a specific team, where your stats and points are recorded throughout. You can set the length of the rivalry, choose different teams, or stay with the same rival through the duration of a season.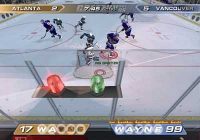 Adding to these standard features, Gretzky NHL 2006 also includes what is called the Wayne vs. Wayne mode. As you play the game and perform special moves, you'll earn what is called 99 time. When you reach enough of these points, you can call the great one himself to play alongside your team for a short time. You can activate him multiple times during each game, and this allows you to have up to five different versions of him on the ice at the same time. This cool feature gives the gameplay a cool arcade style that's instantly accessible and highly playable. However, rival teams can also call on him as well, and trying to defend against him can be quite a chore. The game also lets you challenge Gretzky head-on yourself in the challenge mode, where you can trace your progress against his famous marks and try and beat his records. When you beat his records, you'll earn points which you can then use to unlock hidden features including versions of Wayne when he was playing professionally, along with extra jerseys and other items.
One of the more interesting aspects of Gretzky NHL 2006 is the new Team Chemistry system. This makes playing as a team much more important. Using a sophisticated AI system, players earn points by sharing the puck, assisting, and playing a strong defensive game. As the team mates become more cohesive, their team and individual stats and attributes grow stronger making them a better team overall. This innovative system reflects how true champions are built and adds to the overall strategy of the gameplay, allowing you to fully immerse yourself in building up team dynamics. This team chemistry system has been smartly integrated into the mainline gameplay, making it seem more like a logical extension of the existing game and not like a cheap gimmick. Gretzky NHL 2006's overall feel is further enhanced by its use of Gretzky himself as a reward. This gives the gameplay an added dimension, and helps to keep you motivated to keep playing at your best throughout the season.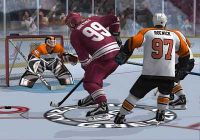 From a visual standpoint, 989 Sports has done an excellent job of recreating the look and feel of the sport. The player models are detailed and realistic, moving smoothly on the ice at a very fast clip at certain points, making for a breathtakingly fast game that doesn't let up much. Gretzky 2006's use of multiple camera angles gives the game a television-style appearance that allows you to feel like you're right in the middle of the action. Extensive play-by-play announcing does a good job of calling the action, though it does tend to lag events on the ice by a few seconds. The game's production values are definitely excellent, and the overall polish lends Gretzky 2006 an authentic and realistic feel throughout.
Overall, Gretzky NHL 2006 is a solid performer in most important areas. The smooth intuitive controls, make passing and shooting easy. Playing Gretzky 2006 is a cinch, with its fast-paced and easy to understand controls making it easy to get into. The matches themselves come alive with solid AI making for some challenging games. Visually, the game looks solid with good player models, smooth animations, a fast pace, multiple camera angles, replays and professional-quality play-by-play that gives NHL 2006 a highly-polished production values that make you think you're watching a game on television. Add in extensive career, management and even a Gretzky vs. Gretzky mode, plus extensive online support and you get a solidly entertaining hockey title. Gretzky NHL 2006 is an excellent title from 989 that effectively captures the excitement of the sport.
> Related Articles

Gretzky 2005 (PS2)
World Tour Soccer 2006 (PS2)
World Tour Soccer (PSP)