Gretzky NHL '06 (PSP)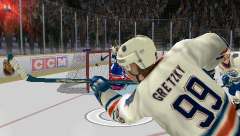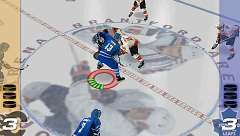 By Michael Palisano
Even though the NHL strike has hurt the sport's popularity in the past year or so, the revived league's rules changes and new attitude seems to have gone a long way in winning back fans. Sony's latest hockey title for the PSP, Gretzky NHL 2006 looks to capitalize on this renewed energy while also playing extensive homage to pro hockey's greatest and most famous player. Gretzky allows players to take on the role of the great one, challenge current rosters while also supporting extensive online play. The controls are easy to understand, making this an excellent package for both the hockey novice and the hardcore fan.
Taking a page from the PS2 edition, Gretzky NHL 2006 on the PSP offers many of the same features and modes, though slightly streamlined for console play. As you'd expect, the game is fully licensed by the NHL and includes all 30 teams, and most of the players. You'll also find a ton of actual arenas as well. The game modes are split evenly between standard modes such as single play, season, and tournament. These modes allow you to play a standard game of hockey against any team. Each team is ranked in terms of power and ability, allowing you to easily see what kind of match up awaits you. Players can also select formations and strategies before each game and change tactics during the matches to adjust your opponents' skills. In addition to the standard approach, players can improve their team's chemistry by sharing the puck, playing defensively and cooperatively, which can improve their overall stats and effectiveness. Gretzky NHL 2006 also includes less traditional challenge modes where you can compete against the Great One himself, or even call him to aid your side. The most exciting of these is the 3-on-3 skating mode where you have a smaller roster and no periods to worry about. Before each match, you select a goal target and the first team to reach that number is the victor. This stripped down hockey is quite a lot of fun, and its arcade-style play makes it instantly addictive and challenging.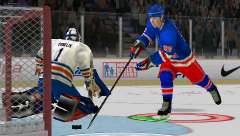 While all of these modes are enjoyable in their own right, the game offers players the chance to unlock even more features and extras. The coolest of these is Wayne vs. Wayne Mode where you can unlock and use up to five different iterations of Gretzky on the ice at the same time. As you play the matches, you'll earn what is called 99 Time, which measure how long you can use the Great One on the ice as you play. In order to unlock this feature, you need to play the game. When you play the game, you can earn reward points for performing specific tasks such as winning a number of face-offs, scoring a number of goals per game, winning games by two or more goals and other challenges. Once you have collected these points, you can use them to unlock Gretzky. You can also use these points to purchase additional content including retro jerseys, extra gameplay modes and other items. This is very cool and keeps you motivated to keep playing the game. In addition to the standard action modes, players can also choose to play the game in Team Management mode, where you can trade, draft and sign players, change your team rosters and other behind the scenes moves. It's pretty neat to be able to do this, and a nice feature for those who want a less action-oriented challenge. The game supports both single and multiplayer modes, with extensive Wi-Fi support for both local (ad-hoc) and internet (infrastructure) play. On the PSP, Gretzky 2006's multiplayer modes were simple to set up in our sessions, and offered the same speedy, intense play as the solo games. These various modes give Gretzky 2006 a varied set of options, creating an extensive replay value that gives the game a satisfying amount of depth.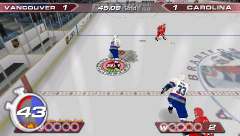 Once you hit the ice, you'll be pleased to find that the controls are both responsive and intuitive, allowing you to take complete control of your team. You can start by setting up your lines, matching up the players with their abilities and placing them at the best position. The rules are straightforward and you'll have to be careful to avoid the icing and off-sides penalties. You can switch between your players easily, and the icon passing system makes it easy to pass the puck to the player you want to hold onto. Shooting at the net is also relatively simple, you basically need to hold down on the shot button and fire. In addition to these standard moves, you can switch to a fighting perspective at certain points in the game and duke it out against a rival using your fists. Players can also use more subtle means to defeat opponents by making line changes, to vary your rosters, using the give and go method (passing between to players close to the net) for a better on-goal advantage and changing techniques on the fly. This gives some sophistication to the game, and the opponent AI is surprisingly aggressive in the default modes. You can also change a number of game parameters such as speed, icing and off-sides rules enforcement, fight bias, game rules and other options on a menu to make the game more or less realistic. The system generally works well, but the controls could occasionally become touchy on the PSP's nub analog stick, making it difficult to move the players as accurately as one would like. Shooting the puck was also somewhat difficult to get the hang of, and it took a lot of practice to get the shots to go in the general direction we wanted them to. However, these problems were relatively minor and were quickly addressed with practice and skills.
From an aesthetic standpoint, the game is a solid performer. It definitely looks like a scaled down version of the PS2 edition, but Gretzky on the PSP offers many of the same features such as the Wayne vs. Wayne mode, Gretzky challenges and even a management mode. However, the controls have been slightly streamlined, making for a more accessible game. Likewise, the visuals still look solid, but there's slightly less detail in the players and uniforms. The action unfolds at a good pace with a solid frame rate throughout making for some intense battles on the ice as your team scrambles on both the defensive and offensive sides. Players can choose from several different camera angles, allowing them to see the action from either a close-angle or a broader perspective. Gretzky's commentary is done expertly, and follows the action closely. While not as slick as the console edition, Gretzky 2006 remains a solid looking sports game that takes good advantage of the PSP's hardware.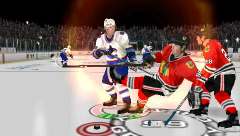 Even though the detract slightly from the overall experience, these hardware limitations and design trade-offs are more than acceptable in light of what the game includes. The various game modes are well-thought out and smartly executed. While some of these moves, such as allowing five different super-Gretzky players on the ice at once seem gimmicky on the surface, they usually make for a more enjoyable game. It's not entirely flawless, with some awkward camera movement and occasionally touchy controls, but the game offers a near-console quality sports experience without many compromises. Gretzky NHL 2006's slick production values such as character animations and commentary are excellent but the game doesn't suffer from excessive load times, either. With its extensive features list, cool bonus games, challenge modes, extensive online support and more, this hockey title offers both accessible gameplay and depth that should keep players occupied for hours. Its accessible controls make it easy to play, and the fast action on the ice makes for an addictive experience, especially against tougher foes. Add robust online support and you have a well-rounded title with plenty of features. This is definitely an enjoyable, exciting hockey game, making Gretzky NHL 2006 another solid addition to the PSP sports lineup.
> Related Reviews

NBA '06 (PSP)