Halo 2 Multiplayer Map Pack (Xbox)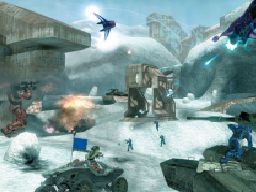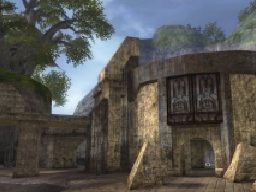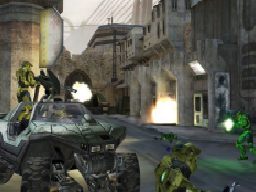 Bungie hasn't been resting since the release of last year's blockbuster Halo 2, instead the influential developer has been busy adding new content to the Xbox hit. Now, these efforts have come to fruition with the release of the Halo 2 Multiplayer Map Pack. This expansion of the game included 9 new maps, with a wide range of environments and styles that expands the depth and reach of Halo 2's already superlative multiplayer game, along with some other cool bonus features and extras.
There can be little doubt that the addition of an official online mode in Halo 2 was one of the key elements behind the game's mega-success. Now, Xbox Live players are in for a treat as Halo 2 Multiplayer Map Pack has reached shelves, offering almost twice the number and size as the original maps offered. Bungie has obviously spent a lot of time tweaking and testing these maps, since they offer a great deal of challenge and play balance, making them excellent additions to the series. The nine included maps range from tight corridors ideal for quick one-on-one battles, to larger expansive environments that lead to epic battles between teams. Each of the maps seems to have been designed with a specific style of play in mind, with different types of weapons and layouts available on each. This makes for plenty of variety, and this also extends to the visuals. What's most impressive is how the maps seem to fit with the Halo universe with the same high-quality visuals players have come to expect. The environments range from spooky religious strongholds, to open ended planetary surfaces and dark, forbidding spaceship holds, which gives you quite a variety of terrain to explore.
Some of the multiplayer maps' layouts allow for more strategy, with sneaking around waiting to snipe an opponent, while others are designed to become all-out brawls with few places to hide. Most of the layouts are fairly straightforward, though some have hidden sections. They all feature a few cool hidden areas and tricks that make them interesting to explore. Bungie has also made sure to stock each area with a unique set of weapons and items, designed to make the multiplayer experience more challenge. For example, you probably want to find the rocket launchers and cannons before your opponents do. The game's strategy also extends to the vehicles, which feature both the standard Marine Warthog and the Covenant battleships. These vehicles can be used to level an opposing team, but they're not invulnerable to attack. Even a soldier on foot can eventually take one of these heavily armored vehicles down if they're persistent and lucky enough.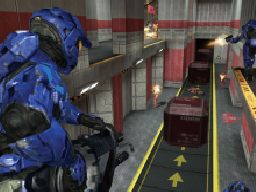 Some of the level designs are as impressive as the regular game. For example, the map called Containment features a large multi-tiered base set between two mountains. This beautiful map features an absolutely huge area to explore and is much larger than the similar area seen in Halo 2. The map has many vehicles available for players to use, including a covenant starfighter and even a tank as well. The look of this map is probably the most impressive in the pack, and its overall feel is worth buying the pack for alone. There are other really cool levels as well such as Relic, which is set on an island, here players begin on the beach assaulting other teams, and race to control the massive statue at the center of this deserted island. This is an ideal map for capture the flag games and is also quite startling. Another impressive area that sets itself apart from the rest is Backwash. This map is set in a dark, wet swamp covered in layers of mist that makes it much harder to locate enemies from afar. These outdoor areas are impressive, but the map pack also includes several indoor areas as well.
The indoor maps are generally more confined than the outdoor sections, making them perfect for all out deathmatches. Most of these maps are fairly symmetrical, with easy to understand layouts allowing for quick movement and little place for opponents to hide. Elongation's claustrophobic confines are a perfect example of these types of maps. With its linear structure, players will have a difficult time escaping their opponents, and can't cowardly hide in a corner. Halo 2 fans will also be happy to learn that the cool urban level, Old Mambasa is now playable as a map. However, the layout has been tweaked slightly, and the added details add a new dimension to this previously seen area as well. These new areas offer an excellent play balance, with a good selection of vehicles and weapons. The game doesn't slow down in during the most heated battles, making the gameplay all that much more impressive. What's even better is that the developers have created these new levels with a variety of play styles and approaches in mind. Whether gamers are looking for a quick game or an extended battle, these maps offer quite a varied approach with both large and small maps that create different strategies for players. Halo 2 Multiplayer Map Pack's different gameplay modes offer plenty of variety with the usual Capture the Flag, DeathMatch, Team Deathmatch and other variants included. This Halo 2 expansion is obviously designed to fully exploit Xbox Live's internet gaming system, and the smooth interface undergoes a facelift to make it smoother and more intuitive. However, those who want to duel with system link and split screen are in luck since the game supports these options as well.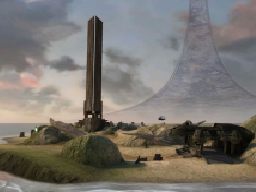 Installing the map pack was a fairly painless and speedy process, and once installed, the additional content is stored on your hard drive, so you don't have to insert the disc each time you want to play the game. In addition to the additional maps, the map pack includes several additional features the most significant of which is an enhanced player-matching system, which makes it easier and more intuitive to find other players. The game updates have also made the online mode much more stable, so players will find themselves able to enjoy online games without worrying about getting kicked off the servers. This makes for a much smoother experience overall, and there are also some minor weapons and other tweaks in the general upgrade that makes Halo 2's combat system even better. There's also more bonus content including a short side-story movie, a behind the scenes documentary, trailers for Halo and Halo 2, and a short sound-testing sequence accompanied by a clever animation. With a low MSRP, this is a good impulse buy. All of this extra content makes the Multiplayer Map Pack an excellent value for Halo 2 fans everywhere.
> Related Reviews

Halo 2 (Xbox)
Halo (Xbox)
Doom 3 (Xbox)