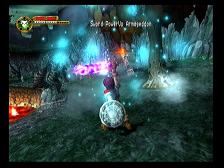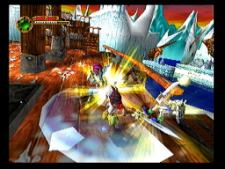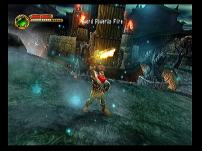 Loosely based on the classic Ghosts N Goblins series, Capcom's Maximo takes the traditional gameplay conventions and familiar locales and updates them in a 3D environment while keeping much of what made the classic titles so appealing intact. Players will find familiar enemies and gameplay styles but the impressive 3D engine will allow for a much richer experience. Expect Maximo to stay true to its roots and offer a light-hearted, though difficult quest with new character progression models, some cool new power-ups and much more. Are you ready to resume the battle against the undead? Click inside for the preview and find out.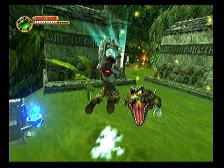 In Maximo: Ghosts and Glory, the title character is a noble knight who returns from a long quest to find his kingdom in disarray. What was once a peaceful kingdom has now been over-run by tons of undead beings. The source of this evil is a betrayal by his once-loyal confidant, Achille. Achille has caused a huge imbalance in the undead world by also imprisoning four beautiful sorceresses, and forcing Maximo's love, Sophia to marry him. It then falls to Maximo to restore balance to his kingdom by beating the enemies, rescuing the female sorceresses and defeating Achille. Such is the mission of this noble being and the light-hearted Maximo will allow players to join him on his journey and walk in his footsteps.
If this story sounds familiar, it is because Maximo is a semi-sequel to the classic Ghoist and Goblins series of games. While the game takes place in a 3D environment, many of the elements of the classic series make reappearances. Players will also find that many of the original enemies also make return appearances, such as the bone towers and red gargoyles. Maximo will also face the infamous zombies who climb up through the ground and the flying scythes. Of course, just as in the classic titles, Maximo can be transformed into an older version of himself, a baby Maximo or he can even lose his armor and get stripped down to his underwear if he makes to many contacts with the undead. On the bright side, He'll also have the opportunity to gain new weapons, such as the ability to summon lightning with his shield. Maximo can also strengthen his armor or get a more powerful sword which can grow larger, call a meteor storm from the sky or even be transformed into a flaming sword, which is very powerful and can cut right through enemies. The twist here is that there is a new character progression system that will allow players to customize Maximo to their liking and should make for a much more interesting quest. In all, Maximo will have more than 40 moves total, so the game should offer plenty of variety. Adding more fun to the action, Maximo will also reward skilled players with special challenge stages that offer the chance for them to gain new abilities.
Obviously all of this is great, but don't think this is just a moldy oldie since there are other interesting aspects of the game that should make it appealing to today's gamer as well. The visuals are, as you'd expect from Capcom, absolutely terrific. Gamers will find a richly detailed environment filled with color, with rich light sourcing and dramatic specular and other visual effects that should make the game visually arresting. Maximo won't be a dark ride, since the visuals were designed by popular anime artist Susumu Matsushita and his designs will give Maximo a colorful appearance that is light-hearted and fun. The animation looks smooth at this point as well. The game looks like it will run at a smooth frame rate throughout and will feature completely interactive worlds that shift position, such as rising and falling, as the game progresses. The visuals look impressive in all aspects, this should really be one of the glossiest and colorful PS2 games to date. You can tell a lot of effort has gone into the engine and that extends to the sound and music. Players will be pleasantly surprised that many of the classic Ghosts n Goblins themes could be heard in the background in the E3 build, which should really enhance what is already a nostalgic experience.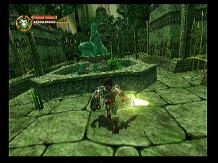 In keeping with the immersive polygonal environments, Maximo will have full freedom of movement but the controls will remain tight and simple to understand. If players get stuck, they'll also be able to use Maximo's in-game tutorial which will help them learn their new abilities without losing the flow of the game. Speaking of which, the simple play mechanics, easy to master controls and straightforward design of the title should really make the title appealing to a broad cross section of gamers. It's a classic game in spirit, design and the overall approach of skill over flash, which means it should make for an appealing design for veteran and newer gamers. While many updates have fallen flat, Maximo looks to break the mold with state of the art visuals underpinned by classic gameplay elements enhanced by a variety of new features and modes. While Ghosts n Goblins has been one of Capcom's least-utilized series the past few years, Maximo's outstanding production values and faithful gameplay looks, at this point, like it will rank as a return to the glorious years of the franchise and it looks like a definite must- purchase when it comes out later this year.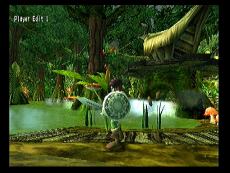 Maximo: Ghosts to Glory


Developer: Capcom


Platform: Playstation 2


Release: Fourth Quarter (November/December?) 2001


Misc. Based on the classic Ghosts 'N Goblins series