Voice Module: Industrial Strength

The Laser has now been going for almost four years now and it's time to take stock, see what's happened as the site has evolved and explain some of the changes and new features that lie ahead in the next few months. This editorial also includes the editor's impressions on his E3 experiences, backward compatibility issues and the upcoming console race between Sony, Nintendo and Microsoft. Check out this paper-free edition of Voice Module for some other gaming related insights.

It's pretty hard to imagine that the Laser's online edition is now almost four years old. Of course, we've been through quite a few changes and evolutions over these years, with the addition of a more colorful layout and a several graphical changes that have given the site a cleaner, more professional look. Almost nothing changes without losing something at the same time and I've gotten several emails complaining about the number of banner ads on the site recently. While they're probably annoying to many of you out there, they are a necessary part of the internet in this day and age. The Laser doesn't write itself, and any income that comes in from these is put back into the site, so please show your support and click through on a couple of these banners, we appreciate it.

As you may have noticed, we've been doing a lot of previews of upcoming titles over the past few weeks, with a focus on some of the lesser-known upcoming titles. My reasoning on this is simple: other much larger sites have already given you saturation coverage of the Metal Gear Solids and Zeldas, but very little information on promising games like Makai Kingdom or Imperator, so we hope you enjoy these titles that flew under the radar at E3, but deserve more attention than they've gotten from the bigger sites. As the summer progresses, and the bigger releases come into play, we'll most likely cover these major games more intensely. With the industry in its usual slow season, focusing on smaller titles will hopefully give you, our loyal readers something more interesting to read about than the 300th article on the same handful of games.

The Laser attended E3 this year and the convention was much more hectic than we expected. The sheer number of announcements made this one of the most impressive to date. This was more productive than usual, thanks in large part to our more aggressive stance in covering the convention, and the many dedicated PR people who arranged more meetings than we'd normally take.. This has led to the site being more open, with coverage of companies and games that we hadn't taken as much time to see before, especially smaller niche players. This should hopefully make The Laser a more rounded site, with better coverage of a broader array of titles. However, there's always room for improvement, and we hope you find some of our new formatting features useful. We are planning on adding a new search box later this summer, and this should feature will help some of the organization and navigation issues with the site as a whole. We are also planning a few surprises that should please those who remember the old fanzine editions of the Laser, so definitely expect the unexpected in the coming months. As for an overall impression, this year's E3 showcased an industry once again on the move, preparing for a new generation while still innovating with the current hardware. Despite the ever present whining about a lack of innovation, we saw a number of clever and interesting games, a sure sign of an industry still very much active and far from the stifling corporate climate many complain about. As always, innovation is there, you just have to know where to look.

As for the many announcements at E3, the hardware players seem intent on rushing right into the next generation with full guns blazing, and its not surprising to see Microsoft pushing hard to launch the Xbox 360 with a strong dynamic launch lineup. However, those who may not want to upgrade immediately will be happy to learn that the original console still has a few mega-games on the way this fall, with some of the best titles for the system to date, including the very impressive Half-Life 2. This should help bridge the transition between consoles, though it still might be a little rocky. One of the major unresolved issues with Xbox 360 seems to be the extent of its backward compatibility. While the signals from Microsoft appear mixed as to how many and which titles will be supported, we have come up with a simple solution: Hold onto your old console. Yes, its probably tempting to trade in the big old beast for the smaller, leaner model, but most stores won't give a lot in credit for original systems now, and players who truly don't want to give up access to their first-generation Xbox games can keep both consoles hooked up. Whether or not you'll have to buy two Xbox Live subscriptions if you want to do this remains up in the air. Of course, I've always been a collector and game hoarder myself, so this was never really major issue for me. Speaking of which, this year marks the tenth anniversary of the PlayStation's launch in the

United States , a happy occasion which was marked by Sony in a most appropriate way: announcing the PS3 at their epic pre-E3 conference.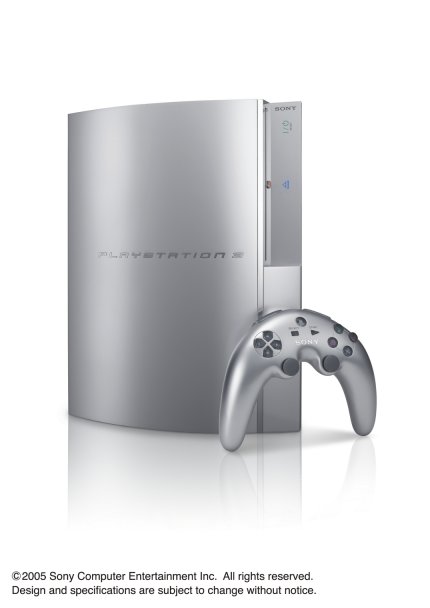 Now that they hype has died down a bit and there's been some time for additional details to emerge, the system still seems quite impressive. The spec sheets are definitely there, and while ATI and Microsoft have made some noise that Sony won't be able to get the performance out of the PS3 that the specs indicate, this might be sour grapes. It seems that the PS3 will easily surpass the Xbox 360 in terms of performance. A lot of observers are making comparisons between the Xbox 360's launch and the Dreamcast. However there are a number of key differences that should make this race far different. Most critically in my mind, when Sega launched the Dreamcast, it was coming off a disastrous race with the Saturn, which had seriously damaged the company's place in the market. Microsoft, on the other hand has had a much better run with the Xbox, and has definitely earned a stronger place in both market and mind-share amongst gamers. The Xbox Live service in particular has become the gold standard with online console gamers, establishing a strong connection between gamers and the platform that looks likely to continue into the next generation. The company also seems to have much stronger support for the Xbox 360 than Sega had with the Dreamcast, particularly amongst Japanese developers and EA. So, there are some parallels in timing, but these are mostly superficial and the Xbox 360 should be an even stronger competitor next time around. Whether or not they are able to overtake Sony depends largely on the software. This is a well-worn cliché in the industry, but one that still rings true in this battle, as always.



Nintendo, on the other hand, seems to be just fine going along on their own path, carving out a niche in the market with seemingly no interest in competing head-to-head with the others in terms of specs and technology. While not many details on the Revolution console have emerged, there are definitely some intriguing facts. The console's backward compatibility with the Gamecube, use of DVD and he ability to download classic Nintendo titles sound intriguing, and the sleek design looks cool. However, the as yet unseen controller is cause for some worry, especially for those of us who remember the awkward N64 controller. However, Nintendo seems to have learned from that mistake, and hopefully history won't repeat itself. Their record is surprisingly consistent – this needs to be remembered by some elements of the video game press. Despite some snickering from some industry insiders, the company's philosophy seems to be working well. Anyone who doubts the company's philosophy only need look at how surprisingly well the Nintendo DS has been doing against the PSP. While the DS seemed to have endured a slump post-launch, the company really seems to be doing well, and the handheld is actually outselling the PSP in Japan , thanks largely to the phenomenon that Nintendogs has created over there. While may have predicted the company's demise many times over, they have consistently prospered thanks to their innovative ideas that have a way of capturing casual gamers while going completely under the radar of the hardcore journalist types. Will Nintendogs be the next Pokemon? It's hard to say whether it will ignite the west, but it definitely has potential.

As for the PSP, the portable seems to have hit a dry patch after the launch excitement, but given Sony's strong finances and long-term strategy, we expect the PSP to begin to seriously challenge Nintendo later this year, as highly anticipated titles such as Grand Theft Auto and SOCOM hit shelves. It's always hard to predict where the video game industry is headed, but that's part of what makes it so much fun to cover. You never know what will happen next, where the next great game will come from or on what platform. While other industries seem to stagnate quickly, gaming's constant reinvention and innovation keeps things fresh. It has been a pleasure to share all this excitement with you readers on the Laser over these past few years and here's hoping to many more.

- Michael Palisano