By Michael Palisano

Titan Quest is a new RPG set in antiquity from developer Brian Sullivan, one of the original co-creators of the Age of Empires. This is set for release this summer for the PC from THQ. Set in Ancient Rome and Greece, the game brings these old battles to life with stunning visuals and action, to deliver a cinematic gameplay experience. The early builds showcase and almost photo-realistic level of detail that allows you to battle the Titans through some breathtaking environments. The massively multiplayer game will support single players and groups with massive levels to explore and conquer. Check inside to find out more details on this exciting game, including screens and a short Q&A with the developers.
With such a strong lineage in place, there's no doubt that Titan Quest is shaping up to be one of the year's most-anticipated PC titles. Set in the worlds of Ancient Rome and Greece, Titan Quest is set to bring players on a mythological quest unlike any other they've seen to date. The game's visual engine is set to impress with richly detailed environments that that bring these lost worlds back to life. Titan Quest's action sequences seem to take place from an angled, top-down perspective that evokes memories of the classic Age of Empires approach. However, the action is promising to be much faster and more intense than traditional RPG's, which should make Titan Quest more accessible for casual players. Unlike the static renderings in most genre titles, the game worlds in Titan Quest look quite impressive. They are beautifully rendered in almost photo-realistic detail, allowing players to fully immerse themselves into the action. The game will take players through a number of landmarks including the Parthenon and, the Maze of Knossos, The Great Pyramids and the Hanging Gardens of Babylon, making for an exciting quest where you can explore some of these legendary great wonders of the world. Titan Quest's plot revolves around the Titans, of course, who have escaped from their eternal prison to once again cause mayhem and chaos throughout the world. It's up to you and your human compatriots to battle and defeat these legendary beasts once again, sending them back to the netherworld once and for all.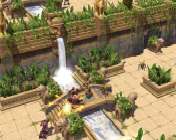 The gameplay itself sounds quite exciting and has players exploring the various worlds of Rome and Greece trying to discover the secrets behind the looming battle between good and evil gods. Titan Quest's flexible class system will allow players to develop their character attributes in a variety of areas, giving players to ability to customize them so that they'll never become outdated or obsolete. In order to beat the Titans, players will face off against a variety of mythical beasts and monsters, such as the Cerebrus, Medusa and Cyclops to name just a few. Titan Quest will allow players to undertake the quest alone or with a group of friends, and will support massively multiplayer adventures. Titan Quest will include more than a thousand items and equipment pieces, all of which will be authentic and fit in with the time. Players will definitely want to be on the lookout for this title, which promises vast worlds to explore, fully customizable characters and some truly old-school gameplay. There's little doubt that Titan Quest is looking like one of the year's best PC role-playing titles, so keep it right here for more details on this exciting game as they emerge.
Titan Quest - Developer Q & A - Provided by THQ
Q: What sets Titan Quest apart from its predecessors and competition?
A: The biggest difference is our historical/mythological topic. Offhand, I do not know of any notable role playing game with a similar topic. A second difference is the quality of the graphics in the game . The game is stunningly beautiful when played, even more so than you can see from the screenshots. Another difference is our editor, which allows you to create incredible looking levels with minimal effort.
Q: Were there any games that served as inspiration for Titan Quest?
A: I think of Titan Quest roughly as a cross between Diablo and Age of Empires. We get the genre and fast-action gameplay from Diablo, and the historical topic, gorgeous graphics, and high production values from Age of Empires.
Q: Both this game and God Of War for PS2 are based on the mythological world of Greece. Are there any other similarities that Titan Quest will share with God of War?
A: Despite the topic, these are very different games, being in different genres and on different platforms. We hope, in addition to the mythological topic, we will have similar game review scores!
Q: A game such as this will require an epic soundtrack, who will be the composer(s) and will there be a soundtrack released?
A: The score for Titan Quest is comprised of music written by Iron Lore's Scott Morton and Mike Verrette. Instead of being completely linear, however, the music tends to be broken up into snippets (or "stingers") and played at key points during the game, or when the player has reached interesting locations. Our ambient music system also supports variation to a certain degree by stitching together melodies and drones to make musical tapestries. These dynamically-built pieces accompany the player on their general explorations and monster-hacking. The historically-influenced score combined with these music playback methods in the game make for a very fresh and immersive experience, aurally-speaking. There is a possibility of a soundtrack release on a later date, after the game has shipped.