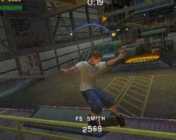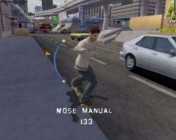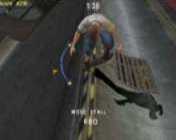 Are you a fellow PC gamer that has sat for months in agony, lamenting over the fact that almost every other gaming platform has been privied to the latest Tony Hawk release? Have you stayed late at night filled with envy, damning yourself for not stealing your best friends Gamecube, or your girlfriends little brother's Playstation2 in order to partake in the shredding goodness that is THPS3? Well fret no longer, PC-game-a-phile…. your prayers have finally been answered. The latest installment of the popular groundbreaking Tony Hawk Pro Skater series has finally hit the shelves, and are you in for a gaming experience like no other.
A few months ago, PC gamers became worried. They saw the latest edition of one of the most popular games of all time hit the store shelves for just about every other gaming platform on the market. Tony Hawk's Pro Skater 3 became a smash hit for the Gamecube, Playstation2, Xbox, and even the classic Playstation, while PC gamers watched with green eyes, waiting for their chance to get in on the coveted action. Well, the waiting has finally come to an end, and now PC gamers can finally get a chance to see for themselves what all the excitement surrounding THPS3. Was the wait worth it, you ask? The answer to that question is simple…. OH, YES!!!
After seeing Tony Hawk's Pro Skater 3 for the other platforms and reading so many positive reviews, it was a no brainer that the port to the PC would be incredible, to say the least. The game designers at Gearbox software and Neversoft have never failed when it comes to a Tony Hawk series release and at first glance of the PC version that same standard of quality has continued. For those familiar with the previous release in the series for the PC (THProskater2), this latest jaunt from Activision Games' label out performs its predecessor by a considerable margin. Although similar in overall structure and game play, Tony Hawk's Pro Skater 3 is light years ahead of not only its previous incarnations, and again sets the bar quite high for the 'Extreme Sports' genre of games.
Tony Hawk Pro Skater 3 does contain many of the same elements that helped propel its previous versions into the spotlight: multiple skateboard tricks, top pro's, realistic locations, and solid yet easy control scheme, etc., etc. However, the game developers at Gearbox Software didn't sit on their laurels, basking in glory of their supremacy of the 'Extreme Sports' gaming genre while developing the latest Hawk release. Instead, they opted to overhaul their ingenious creation, giving it a new look, new energy, and a whole load of new gaming options for both the single and multi-player fan.
First off from the new features list is an updated Create-A-Skater character generation scheme. From the initial load up, players can choose from a dozen pro skateboarders from both the vert and street scene, including Tony Hawk, Elissa Steamer, Jamie Thomas, Steve Caballero, Geoff Rowley, and even Bam Margera from MTV's popular TV show Jackass (two generic baseline characters are also available to choose from, male and female). Every aspect of each character's appearance is fully customizable and can be modified to suit the individual players' taste, ranging accessories (backpack's, armbands), to clothing (footwear, pants/shorts, shirts, hats, socks), arm tattoo's, and even skateboard paraphernalia (grip tape designs, wheel color, etc.). Character designs can even be downloaded to other computer systems, allowing players to show off their own idea of what a skater should look like to other THPS3 players.
An updated graphics engine is also new to this latest edition of the Hawk series, overshadowing all previous incarnations by leaps and bounds. Characters based on real-life skaters have an even more real-life look than on previous Pro Skater editions. Movement is also more fluid, which gives multiple trick combos and other difficult moves extremely realistic feel to them.
Keeping the tradition of incorporating real world and popular skateboard locations into the game play of the Hawk gaming series, Gearbox software has designed eight new 'living' levels of game play that should keep skateboard fans busy for hours on end. Each level (including Canada, Tokyo, and Los Angeles among others) has its own unique signature setup, including specialized ramps, lips, rails, weather, obstacles, and of course hidden areas. All levels are extremely large, highly detailed, and nicely rendered, adding again to the overall realism of the skateboarding experience found in THPS3. Something new to the game play within in each level comes in the form of interactive people and intelligent traffic. Cars, buses, and pedestrians have a base A.I. , making them aware of a gamer's approach and allowing them to interact appropriately (watch for snowballs in Canada).
Though most of the modes of play should be familiar to most players (career, freeskate, skate park editor), there have been several changes and updates made to the final product. For starters, the career mode has been completely overhauled, giving players more character-specific goals involving interaction with pedestrians, traffic, other skaters, and level specific operations. This is a dramatic change from the previous editions money based goal system, and is a welcomed whole-heartedly. Reward cinematics for level completions are also very well produced, giving players that extra thrill for completing the tough tricks. The skate park editor mode has also seen its fair share of enhancing and updating to go along with the career mode. Now players have the ability to create skate parks twice the size of previous versions, adding even more to the games overall replayability.
The final change noted for THPS3 comes in the PC's multiplayer mode. Up to 8 players supposedly can compete against one another via LAN or Internet connections in various games. Some of these include King of the Hill, Slap!, Trick Attack and Graffiti. Players can also trade custom skaters as well as Custom Skate Park designs via the infamous Gamespy network (if one takes the time to register online for the service). Also, the PC version includes four exclusive maps that are not available to any other platform. To be completely honest, all of this info came from the product literature that was included with the game. At the time of this articles publishing, we were still unable to actually utilize any of the multi-player capabilities of THPS3. After each attempt to log on to the Internet with the game, THPS3 became unstable and would crash time after time. Several inquiries were made to Activision's tech department, but the issue has still not been resolved unfortunately. Hopefully, the next patch available for the game will fix the issue.
Overall, Tony Hawk's Pro Skater 3 was a pleasure to play. Not only was the game play exciting and engrossing, the graphics were outstanding and the tricks were easy to learn and master. Those familiar with the Hawk series of games will be delighted with the brand new levels of play and the excellent revamp of the career mode of the game. New comers will enjoy the solid control scheme and the variety of realistic and obstacle-filled locations that the developers have become renown for in their design of THPS gaming series. Tony Hawk's Pro Skater 3 is a definite 'must-have' for anyone that is a fan of skateboarding or the extreme sports game genre. If it wasn't for the lack of support of the multiplayer game mode, THPS3 would be a perfect title.



> Related Reviews:

Tony Hawk's Pro Skater 3 (Gamecube)
Tony Hawk's Pro Skater 3 (PS1)
Matt Hoffman Pro BMX (PC)

> What do you think? Post your thoughts on this review in the Laser forum