Preview: World Tour Soccer 2006 (PS2)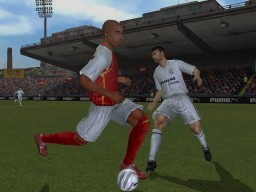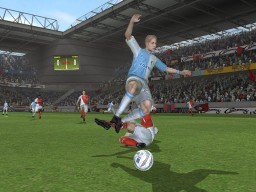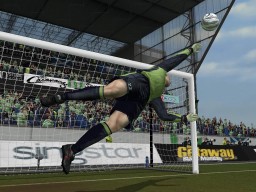 Sony's 989 Sports brand has achieved a surprising amount of respect in their off-major sports offerings, with a successful iteration of their Hockey franchise just recently completed. Now, the company has turned their attention to the world's most popular sport with the upcoming release of World Tour Soccer 2006 for the PS2. The game will feature realistic stadiums, clubs, plus a ton of players, tournaments and modes. WTS 2006 will also feature an innovative EyeToy mode that promises to put players into the game like never before. Join us as we kick this ball around and let you know why this might be the year's most underrated soccer title.
World Tour Soccer 2006 is the fourth installment in Sony's long-running and popular sports series. It's due out later this spring for the PS2 and brings some surprises to the table, along with the usual upgrades. While the previous titles have earned the company a solid following, this year's installment looks to achieve a exciting new level of immersion thanks to a number of unique features being implemented this time around. 989 is promising the most realistic title in the seires to date, with more than 900 real international and club teams, 19,000 licensed FIFpro players from more than 30 different leagues and conferences. This comprehensive approach should give WTS plenty of depth and replay value. The game will also feature eight separate tournaments taking place in 28 realistically rendered stadiums. On the field, the game promises numerous improvements with a number of gameplay modes including Exhibition Matches, Season, Career, League and Challenge Modes for solo and multiplayer action. Most of these are self-explanatory, but the Challenge mode sounds the most interesting, since it allows players to play a one-off match against tough opponents. These matches won't just score the players on number of goals, but on other factors as well, such as ball possession time. WTS 2006 will also allow players to compete in a number of cup modes, and allows the creation of new leagues, cups and tournaments. The game will also feature numerous unlockable items that can be obtained by successful play including extra teams, stadiums and cheats to name a few. With this comprehensive array of features, the game certainly sounds impressive, but how will it play and what changes have been made to compete with the other big releases like FIFA and Winning Eleven?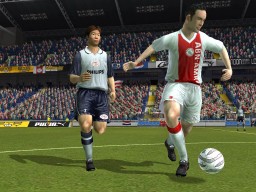 In order to capture the nuances and sophisticated strategies of real life-soccer more accurately than previous titles have, 989 Sports is promising a massive overhaul to the series' AI system. Opposing teams will play much smarter this time around which means more unpredictable play. They'll change their shot timing, placement and change their defense strategies to make for a much more exciting game. Additionally, their tactics will change. Each team will now play cooperatively as a real team with and more accurately recreate the playstyles of their national teams, with the teams emphasizing finesse or strength, style or precision, as their counterparts would. Players will find a redesigned interface as well, with an enhanced control scheme that will allow more control of the ball. Players will be able to kick the ball on a curve to defeat the opposing team, or use their strikers to go in for the attack. The game's icon-passing system will also give you plenty of flexibility, allowing you to change the pace of each match, swinging the momentum to your side quickly. This will make your strategic choices such as formations and attack patterns play a much larger role in the outcome of each match. All of this sophisticated nuance shouldn't intimidate novice players, since the game's intuitive controls means the gameplay will be easy for newbies and casual gamers to pick up. It seems that 989 are trying to achieve a balance between pleasing both sides of the aisle with WTS 2006, and they may have succeeded this time around.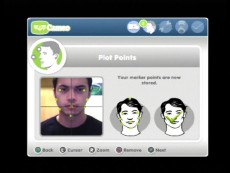 In addition to fine-tuning the on-field gameplay, World Tour Soccer 2006 will feature numerous enhancements to its visuals and presentation to help keep it in line with other titles on the market. The game will include new animations and cut-scenes to spotlight the game's dramatic moments. WTS' developers have also enhanced the engine with a smoother appearance, improved lighting effects and deeper commentary tracks for each match. The commentary can also be set for one of four different languages: English, Spanish, French and Italian. Another big change comes in the stadiums themselves, which will feature an incredibly high level of detail, allowing the to redefine realism. The game will also include authentic crowd noise, chants and songs, with each team's fans' waving their flags and colors in the stands, adding to the level of excitement and intensity of each game. This should make it the best-looking title in the series to date, but there's one unique aspect of the game that should set it apart from the pack.
World Tour Soccer 2006 will be the first title in the series to support the EyeToy peripheral. Using the camera, players can scan their own faces into the game and watch themselves on the field. This is done by using the game's Digimask technology to convert high-resolution images of a gamer's head into digital form. This data is then used to render a 3D model of the player who will take the field. While this is cool in itself, the sophisticated DigiMask technology will let the game add emotions onto each players' alter-ego, allowing them to react to different events. For example, the player will have a big smile after scoring a goal, but will frown and grimace when they are carded. This looks to be a unique offering that WTS' rivals won't be able to match and an innovate use of the underutilized EyeToy camera. While some of the game's features and upgrades seem standard for sports titles, World Tour Soccer 2006's support of the EyeToy should bring it at least some new fans. It's definitely a cool idea probably well-implemented. This seems to have more than just the camera gimmick going for it, since the developers have promised a number of improvements to the gameplay as well. With more sophisticated AI, smarter opponents and some cool moves, each match is going to be less predictable and more engaging than in previous titles. An improved interface will add nuanced moves and techniques for more sophisticated players while remaining accessible to the casual soccer fan. Overall, this is looking to be the most innovative and accomplished title in the series to date, and soccer fans should definitely check it out later this year, if only to see themselves on the field, thanks to the cool EyeToy feature.
> Related Reviews

World Tour Soccer 2005 (PS2)
World Tour Soccer 2003 (PS2)
WInning Eleven 7 (PS2)