Upon first booting up FIFA Soccer 13, players are presented with an almost overwhelming menu of options and modes. Going a bit deeper and examining these gives you a sense of just how much depth EA has put into the newest edition. One of the more interesting features this year is the Ultimate Team mode, a kind of fantasy league where you can assemble a team of the best players around and compete with other players to see who lands on top. You can also create and use your own custom players and use them through multiple seasons. As you earn more skill points, they become more effective on the field, and increase their value to your play. The game also gives you the ability to play as a manager and make decisions regarding your team which can occur in a single season or over many years. Returning from last yearís edition is the Be a Pro mode, where you can take to the field as a single player and try and work within live matches. You can choose to play as a standard position player or as a goalkeeper. Itís surprisingly interesting and gives you the ability to play as a solo player, where you can make progress in your career regardless of the outcome of individual matches. This has been carried over from previous games and adds depth to the standard match play. Various other options include the ability to customize the appearance of your player, the length and difficulty of each match and which rules, such as off-sides and penalties will come into play. Itís quite a comprehensive approach, but it works to give the game plenty of depth.

In addition to these on-field modes, you can also choose to play as a manager and trade, swap and build your roster while making other behind-the-scenes decisions. This is all wrapped under the gameís social networking umbrella as well. Expanding on the EA Sports Football Club from last year, this edition allows you to play through the various modes and can take you through multiple seasons. In this mode, all your activity in the various game modes is compiled in one place. It allows you to play multiple seasons, and can be an over-arching identity for the player, carrying through multiple games on different systems. This allows you to compete and compare your status against friends online and earn higher rankings. You can use your custom players in this mode, which also lets you play in full matches, As you progress through the charts, youíll earn points that you can you to purchase additional items in the FIFA store. This helps to keep players motivated and extends the gameís life significantly.

Players have other options available including the ability to go on the practice pitch, which allows you to learn and use basic moves and strategies and build up your skills. This yearís edition allows you to make set-up plays, adds additional tactics to your practice roster and now includes an elaborate system of mini-games. Playing through these drills allows you to focus on specific skills such as shooting, passing and penalties. Each area consists of several increasingly difficult mini-games, which reward the player with additional status points when theyíre completed successfully. Breaking through these modes adds to your playersí overall skill set and gives you the opportunity to add to your overall skill ranking. Itís quite fun to play through these modes and gives FIFA 13ís practice modes an added stake.

In addition, FIFA Soccer 13 also includes support for the Playstation Move controller, a nice addition for those who want to explore motion controls. Its fu n to play around with for a few matches, but once the novelty wears off, the standard interface is still superior. The standard controls players have become used to in FIFA games have returned, but there are some new twists this time around. Once you get on the field, things are fairly familiar at first, but youíll notice some subtle changes. You begin with the standard moves with feel exactly as they should but theyíve been enhanced by new tracking and enhanced dribbling moves, Some of these can be practiced with interactive tutorials that allow you to learn these new techniques effortlessly. FIFAís other major new technique is tracking. This lets you to pace with an attacker and keep them off balance while the new push and pull, where you can push or pull your opponent when youíre running alongside them is quite effective at keeping the opposing attacker off balance.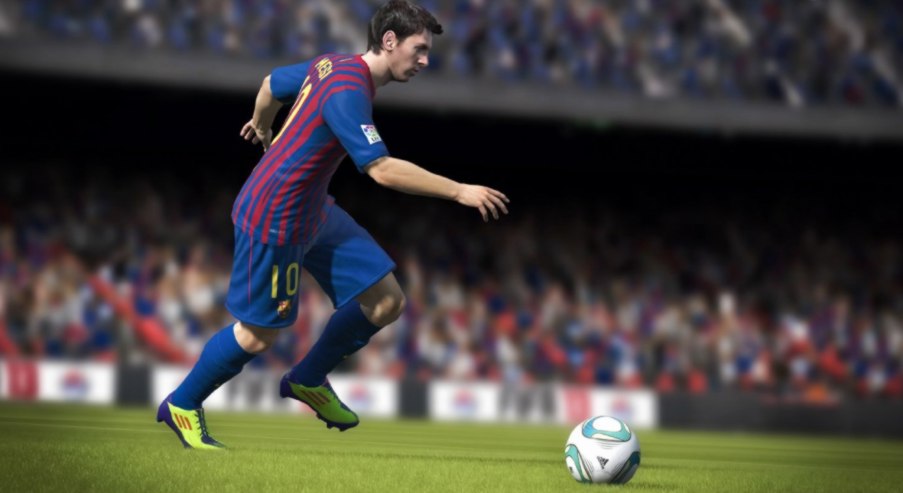 FIFA 13ís defending controls have also been significantly changed with the new containment moves, where you can move laterally to defend your goal. Itís fairly simple to perform, since you only need to hold the left shift and move the defender parallel to the attacker. Containment also works when youíre pacing your own players, which makes the gameplay feel more authentic. These new additions also include enhancements to FIFAís dribbling system. It now features whatís called 360 degree control that offers more precise movement when youíre running with the ball. One thing that makes the game more challenging is the smarter AI. Keeping possession isnít as full-proof as in previous games, since the more advanced AI means players wonít always have perfect possessions every time. They can fumble balls or go in errant directions. This can be frustrating when youíre on offense, but it gives you opportunities when youíre defending. This makes the game feel less predictable than previous installments, and while itís a little frustrating at first, it definitely increases the level of realism in FIFA 13.

Playing against opponents has changed a little since the last installment. Instead of acting like blind drones, theyíre now able to think ahead a little bit more. This makes for less-predictable opponents, causing more challenging and exciting matches that better reflect real-world conditions. You can play through several matched and not see the same tactics used, which makes the gameplay feel more even than in other games. Setting up plays and attacks now requires you to plan ahead more than usual, which makes FIFA 13 feel more like a real-world soccer match than a video game. Scoring isnít as easy as it was in older games, and youíll definitely have to work to earn each goal. Defending has been tweaked as well, which makes for a rougher, but more realistic experience overall. The matches feel like they have better pacing this time around, and thereís more nuance to the possessions, making it less likely the team in control will be able to create an unobstructed patch to the goal once they control the ball. FIFAís interface allows you to change tactics on the fly but the approach is more subtle this time, making abrupt changes throws off your teamís balance and isnít quite as effective as it used to be. Despite these changes, FIFAís mechanics create a good balance between the new and familiar, so thereís enough twists to keep veteran players interested.

With its extensive array of options, modes and configurations, FIFA Soccer 13 is probably the most comprehensive soccer title EA has released to date. Whether youíre looking for a quick solo match, an extended battle with sophisticated computer AI opponents or an even deeper set of online modes, FIFA delivers the goods once again. Itís highly-polished gameplay mechanics are both intuitive and deep with numerous changes and enhancements that add to the gameís overall realism. Matches are less predictable than in previous years, and while this is more challenging, it also gives the game an excitement that mimics the controlled chaos that makes professional soccer so engrossing. This is an outstanding title overall, and one of the most enjoyable and deepest soccer games EA has produced in the past few years.
- Michael Palisano