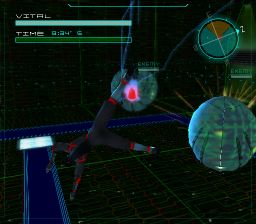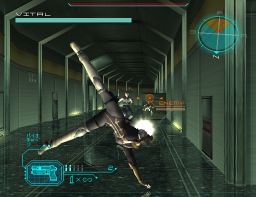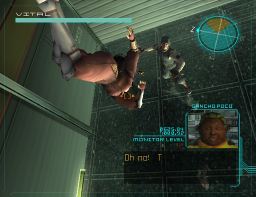 On the surface, Cy Girls seems like another stealth/action game, but Konami has a few twists in mind that should turn the genre on its head. In addition to the usual stealth tactics, players will be able to use explosive martial arts moves and techniques to take out an international cartel of information-terrorists. Taking place in a technology-saturated future where the real world and virtual space co-exist, Cy Girls' most interesting feature allows players to leap into a cyberspace world to defeat these enemies. This is an imaginative idea that should make the game stand out from the pack. We're definitely excited about this game, so read our preview and find out why Cy Girls should be more than just Splinter Cell with babes.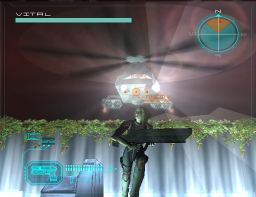 What happens when you mix action, strategy, stealth and cyberspace with enormous sex appeal? The answer is Cy Girls, coming this November from Konami on the PS2. In this exciting action game, players can control one of two female agents as they travel through exotic locales around the world looking to neutralize cyber-terrorists. Cy Girls takes this a step beyond with intense cyberspace sequences that should allow for some exciting and unique play mechanics. This unique approach melds ideas from the Matrix films, martial-arts and stealth-action titles and should make for a unique experience. Cy Girls looks really exciting and already seems to stand apart from the plethora of stealth-action titles set for release this year.

For the uninitiated, Cy Girls is based on Takara's popular Japanese toy line and takes the main characters through an exciting and intense gameplay experience. In the game, players can control one of two sexy secret agents Ice or Aska. Each of these agents is a deadly as they are delicious and each one has an array of skills that they can use in battle such as kicks, jumps and aerial attacks. Which skills you get largely depends on whether you choose to play as Ice or Aska. Ice specializes in firearms and long range attacks requiring stealth, accuracy and intelligence. Aska on the other hand, specializes in martial arts and uses her close-combat skills to slice up enemies with precise moves and attacks. Both agents have a number of cool weapons at their disposal including futuristic guns and traditional swords. As the game progresses, players will be able to earn new abilities by entering the cyberspace world, where they can also perform moves that would be impossible in the real world. While in cyberspace, the girls can also find clues and secrets they wouldn't otherwise locate, making this mode more than a gimmick. This should definitely set the game apart from other titles in the 'stealth' genre, which usally emphasizes realism over fantastic elements.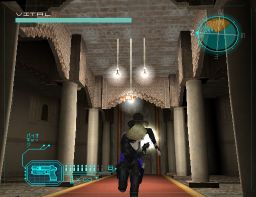 The action takes place in a variety of futuristic locales that takes place in both the real world and a cool parallel cyberspace world. During the course of the game's many levels, the Cy Girls will travel to South America , Asia and the United States , each one posing a unique set of challenges and mission objectives. The Cy Girls will face a number of different enemies in the game and can take them out in a number of ways. Players will be able to perform a number of acrobatic moves on their opponents, allowing them to fight with style. Cy Girls will feature an intuitive control scheme that should make the game accessible for both casual and hardcore gamers. It would be easy to dismiss the game as and players can target their foes either manually or by using the auto-target feature. Additionally, Cy Girls will fully take advantage of the PS2's dual shock contoller, allowing players to move and aim simultaneously.

From a visual standpoint, Cy Girls looks to be one of the best looking PS2 games to date, with an excellent third-person perspective giving the player a good sense of the action to date. The game's real-world environments look incredibly detailed and rich, with excellent light sourcing and rendering already apparent. Obviously, the cybernetic areas are the main attraction and should offer an expansive, imaginative futuristic virtual reality experience. Cy Girls' sleek design looks immediately appealing. The combination of high-tech digital weapons with traditional martial-arts weapons is cool. Both of the girls themselves are immediately striking and quite appealing combining to make a stylish look that's both cool and sexy. Additionally, the game will offer cinematic flourishes and cut-scenes that should only make the game that much more immersive and exciting to play.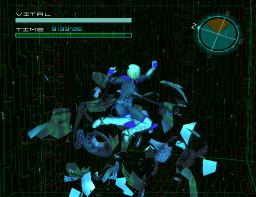 Between all these elements, lurks what could be one of the year's sleeper hits. It's cool main characters, excellent design and interesting play mechanics should make for some exciting gameplay. The ability to perform cool moves easily should make Cy Girls accessible for a broad audience. The cyberspace mode looks really slick, but the intelligent integration with the main gameplay will make this more than a gimmick. Players who've been complaining about a lack of originality in games should take heart because Cy Girls looks to offer solid gameplay and interesting techniques. Its novel approach to the action/stealth looks quite interesting. This hybrid title seems ready to stretch the boundaries between different genres. Cy Girls definitely looks like one of the year's most intriguing titles. If these elements hold together successfully in the final product, Takara and Konami might want to consider bringing the action figures out stateside.


> Related

Preview: Sphinx (PS2)
Preview: Arc the Lad (PS2)
Preview: Jak II (PS2)