Logitech Driving Force Pro (PS2)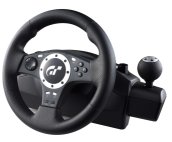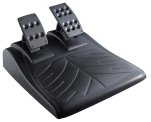 When you create a sophisticated racer like Gran Turismo 4 that features an incredible amount of attention to detail and fidelity to realism, it makes sense to produce a high-end driving wheel to enhance the experience. Logitech has done just that with the release of their outstanding Driving Force Pro steering wheel for the PS2. Specifically designed for GT4, the wheel features 900 degree rotation, superb force feedback and excellent rubberized wheel itself. However, these high-end features come at a high-end price. Coming in at $150, this is definitely not a peripheral for the casual gamer. Read on and find out why the Driving Force Pro is definitely worth it for hard-core GT4 fans.
While there are many racing wheels on the market, Logitech's Driving Force Pro for the PS2 stands far above the rest, with a high degree of craftsmanship that most other devices don't even attempt to match. Start with the solid-state construction, which gives the wheel a heft and gravity that gives the player an incredible sense of realism. The Driving Force Pro's base is heavy and rigid, giving the device a realistic feel. You immediately notice the device's quality, with the beautifully designed components making this quite a joy to use and play. Setting up the Driving Force Pro is relatively simple and most players should be up and running in a few minutes. It connects to the PS2 using the USB port, and players set up the wheel on a table. In a nice touch, two smartly constructed clamps offer a secure marking, that keeps the wheel firmly in place, even during intense racing. The driving pedals are likewise sturdy and feature special grippers that allow them to stay in place, another key asset for the device. Once you connect the device to the AC adaptor, it begins a quick automatic calibration, spinning on its own to find the perfect adjustment. The Driving Force is beautifully designed and ergonomically pleasing, offering a great feel in the player's hand. The wheel itself is beautiful from both an aesthetic and tactile approach, with a rubberized construction that guarantees the player a firm grip throughout. The gas and brake pedals offer firm, responsive action that allows you to feel the action with a textured, beveled floor that allows you to push down on them without those annoying slips and skids that seem to plague lesser wheels. Further adding to the realism is the left side mounted shifter, which feels silky smooth and offers responsive feedback to the player. All of these elements come together to make the Driving Force Pro seem almost exactly like a real steering wheel you'd find in an actual car with responsive handling and an incredibly satisfying tactile feel.
While its physical construction and feel is excellent, the biggest feature that will attract racing aficionados is its unprecedented 900 degree rotation, which allows players to turn the wheel a full 2 ½ times from side to side, making for an impressive realism. The steering controls are incredibly responsive, with digital optical sensors providing an incredible amount of accuracy. This level of realism allows players to truly experience real-world race car controls and action. The wheels precise mechanics allow you to really go around hair-pin turns and perform power slides much easier than with lesser wheels, let alone attempting these maneuvers with normal Dual Shock controllers. The rotation might not seem like a big deal, but it makes all the difference when you're turning around tight corners, allowing you to take turns without crashing into walls. The steering rotation is impressive, but the device further enhances its realism with some of the finest and most nuanced force feedback we've ever seen in such a device. Begin with the steering wheel itself, which features real rack and pinion controls. What this means is the wheel vibrates subtly along rocky terrain letting you feel every rock in the road. When it comes time to oversteer and navigate tight corners and hairpins, the Driving Force Pro offers a stunning level of resistance where you actually need to fight with it to keep your car in a straight line and prevent spinning out off the track. It's superb force feedback system is without a doubt, the most sophisticated we've ever seen, and truly brings the real racing experience home.
The Driving Force Pro has obviously been fine-tuned specifically for Gran Turismo 4, with excellent button placement, smartly designed shift paddles on the back of the wheel and a great tactile feel throughout. It definitely allows GT4 to shine even brighter but the wheel supports 900 degree rotation in a number of other games that support the feature. You can also use the wheel with other racing titles, but it's constrained to a more standard 200 degrees of rotation with non-supported titles. While the list of supported titles is a bit slender, those games we tested with the wheel performed admirably, with even Gran Turismo 3 A-Spec benefiting immensely from the Driving Force Pro's accuracy. While racing fans have dozens of steering wheels to choose from, few can claim to match the quality of construction and design that is evident in every element of Logitech's Driving Force Pro for the PS2. The device is definitely not for the cheap or casual gamer. It's high-price and sophisticated features mean it's likely to appeal most to the hardcore GT4 contigent. However, the high-quality of the wheel is obvious. Everything from the realistic 900 degree rotation, it's sophisticated force force feedback, authentic resistance in turns, and overall excellent design and construction make it by far the most advanced, realistic and responsive wheel on the market. This is definitely a case of getting what you pay for. Logitech's Driving Force Pro offers triple-A quality in every department, delivering an unparalleled experience that makes it well worth the money.
> Related Reviews

Gran Turismo 4 (PS2)
Gran Turismo 3 A-Spec (PS2)