By Michael Palisano

EA's latest soccer title features a number of enhancements that increase the overall realism and authenticity of the experience. The game's control system is intuitive and allows for greater flexibility and control on the pitch. This makes dribbling, passing and shooting easy to perform. The visuals have also undergone a transformation, with more detailed character models and elaborate cinemas that lets you feel like you're on the pitch. While the series has set the mark for soccer in the past, FIFA Soccer 06 adds an enhanced online Lounge mode, which makes it simpler to set up matches and online tournaments. Other changes include a deeper management mode and more elaborate customization features. This is a solidly produced sports title, read our review and find out why FIFA Soccer 06 remains on top.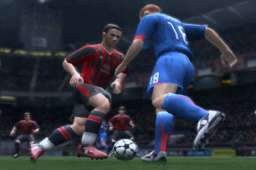 Soccer's growing popularity over the past few years here in America shows the sport has definitely established a firm foothold on the continent. While many factors are probably responsible for this, EA's FIFA Soccer series has definitely brought the beauty and nuance of the sport to American video game consoles over the past decade. A constantly improving graphics engine, coupled with intuitive controls and accessible play have become the series' trademark, and this year's installment continues that trend. With an impressive list of features and additions, FIFA Soccer 06 on the PS2 offers soccer fans one of the most comprehensive simulations of the sport to date. Including the official license means the game features more than 20 major world-wide leagues and teams such as MLS, the English Premiere League, and more than 10,000 real-world players along with completely updated statistics. In order to keep things authentic, each team is ranked in a number of areas, such as defense, offense and, style, allowing you to set up matches. The advanced AI means that each team plays as they do in real-life with actual tactics and playing styles recreated effectively. In addition, players can increase their team's chemistry by keeping them together over a few seasons. This makes the gameplay intuitive and exciting, since the teams you face don't always respond to your moves in the same way, making things less predictable. One major addition that FIFA 06 includes this time around is the playing style, which affects how much individuality your team and players brings to the game. This aspect increases the longer the teams stay together. Another key to success is creating a team dynamic where the players are both cohesive and effective will take plenty of time and practice, but it makes your club all the more dangerous on the pitch. In addition, the FIFA Retro mode allows you to compete against or as a number of classic rosters featuring legendary players. There are several retro squads and classic player bios that you can unlock throughout the game, giving you added motivation to keep playing and mastering the nuances of FIFA Soccer 06.
Players have many options to choose from and can select to place their team in a friendly match, compete against league opponents, enter a tournament, or choose to play international matches using national teams. Players can also choose to go behind the scenes and manage their teams over a period of many years. The game allows you to play against the computer using AI opponents, against a friend and challenge others online in the extensive FIFA Lounge mode. Players can also choose to practice their moves, change players in their team by trading, drafting, and buying players. You can also set different formations, strategies, and playing styles between matches, giving you maximum control over the field of play. The standard action modes are typically fantastic, but FIFA 06's manager mode has also undergone an extensive revision. These changes allow you to get in deeper, and have more control over your club than ever before. In addition to signing players, you can now seek out sponsors, investigate the market for player transfers, manage your coaching staff, assign budgets, choose which formations your club will use in order to help build the ultimate squad on the field. This Team Management mode covers 15 seasons, allowing you plenty of flexibility to create your dream club with plenty of flexibility, with plenty of depth. In addition to the standard roster of real-life players, FIFA Soccer 06 allows you to create your own player in the edit screen. Here, you can set up the player's moves, abilities and change their visual appearance, to make them appear exactly as you'd want them to. You can then use these players in an actual match against opponents. FIFA 06 allows you to control virtually every aspect of your team both on and off the field with a simple interface of menus that's easy to navigate. This attention to detail creates one of the most comprehensive, realistic soccer titles in the series to date, offering an impressive number of options for you to choose from.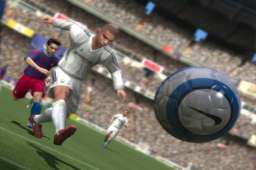 With so many options and configurations art your disposal, it would be easy to overlook the action on the field, but EA hasn't ignored the game mechanics. This time, the controls offer the most flexibility and control to date, allowing you to have a much greater amount of control on the ball. This intuitive control system offers a significant amount of improvement in a few key areas, such as trapping and shielding the ball, that give FIFA 06 a much-needed dose of realism. Different players have unique styles, and the game allows you to set your own play by letting you select from four different configuration with both analog and digital control offered. There are two sets of controls in the game, either offense or defense. When you are attacking, the controls allow you to dribble the ball downfield towards the goal, and either pass or shoot the ball. The controls make it easy to set up your shots on goal, allowing you to change the angle and pitch before you release the ball. The game also lets you change your tactics by passing the ball, kicking it downfield or switching your running position. During each match, its important to watch your players' indicators for signs of weakness and fatigue, so you can quickly substitute them for a fresher players. When playing defense, you have a number of options to keep the ball away from your net. You can choose to tackle an opposing player and try and knock the ball out from under them. However, FIFA 06 seems a bit stricter with these attacks, and they usually result in a yellow card. A better strategy seems to be to take the ball from the front and try to block attackers. As your last line of defense, your goalie is all that stands between an attacker and the goal, your mission here is to guide the goalkeeper to the right position to deflect any shots. FIFA 06 builds on the excellent interface that made the previous titles so appealing, while adding increased nuance and control to create an intuitive interface that gives the player an incredible amount of control over the onscreen action.
FIFA Soccer 06 looks just as good as it plays, with excellent character models that animate beautifully. Each player is rendered realistically with smooth lifelike movement and action that makes the players appear lifelike, improving on last year's edition significantly. When the action switches from on field to close-up for the replay shots, the players' facial expressions and movements effectively convey their emotions and reactions to the onscreen action. The game's pacing and momentum accurately replicates the feel of real professional soccer as well, with the fast yet subtle nuances of the sports brought to life vividly. The crowd reactions and chants are quite effective, giving gamers a real sense of the passion and ferocity that occurs in the stands during each match. Players also have an extensive selection of in-game music to choose from, which fits the mood perfectly. FIFA 2006's play-by-play commentary is also excellent, explaining the action and conveying the action on the field with two expert announcers. As you'd expect from EA, the production values are superb, with simple yet beautifully designed menus that are easy to navigate, slick between game animations and clips. This year's edition also features and array of DVD-style extras including film highlights from some of the international leagues' previous seasons. The game also includes a brief video retrospective outlining the history of the FIFA Soccer series. Tying into this "now and then" theme, FIFA 06 also includes a complete playable version of the original FIFA 94 title, a landmark from the 16-bit days that set the stage for EA's long-standing dominance of the sport.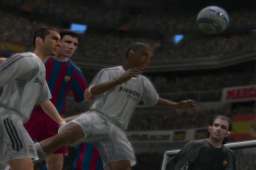 Looking at the complete picture, FIFA Soccer 06 remains the best-looking and playing soccer title on the market today. Its extensive licenses mean you can play as the actual players and teams without having to make due with generic substitutes. The game itself has been tweaked, with its intuitive controls offering both flexibility and depth. Its extensive selection game modes makes FIFA 06 an excellent choice for both casual and hardcore soccer fans, who either want to play a quick match or go deeper into the team management modes. The gameplay itself remains solid with sophisticated AI that accurately mimics the tactics, style, and approaches of each team in the database. Players will also notice improved ball handling and enhanced online modes that add more realism and depth to an already solid engine. Add in a ton of extra features and bonus items, and you have an incredibly deep, authentic soccer title that accurately captures the feel and competitive passion of professional soccer. Far from resting on previous accomplishments, FIFA Soccer 06 improves on the previous games in a number of key areas, making it another superb installment for this franchise.