Preview: LA Rush (Xbox, PS2)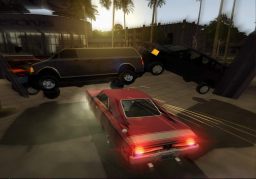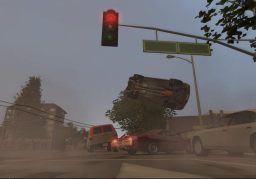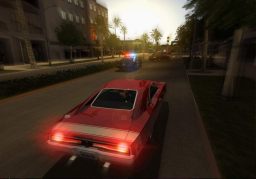 Taking the classic racing franchise in an interesting new direction, Midway's LA Rush for the PS2 and Xbox adds elements of street racing with customizable vehicles, much larger gameplay environments and more to make this a more robust title. A plethora of real-world custom vehicles, massive jumps, and cool stunts should add to the excitement. LA Rush's street-cred will be enhanced with celebrity voice acting and real licenses such as West Coast Custom that should give the game plenty of underground authenticity. These features should make this promising revival the deepest and most exciting Rush title to date.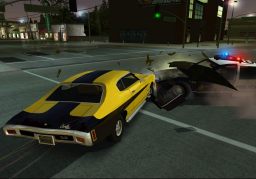 Loosely based on the classic Rush series from about a decade ago, Midway's LA Rush for the PS2 and Xbox gives the franchise an impressive overhaul, with a streetwise sensibility, open environments, customizable vehicles and a deeper storyline. The new game offers many of the classic Rush elements, but goes a lot deeper than the simple arcade racers of the past with a back story and mission-based levels that allow players to feel like they're playing as the main character. You begin the game coming out as a street racer trying to win, modify and trick out a huge garage of vehicles. Your character's main motivation is to reclaim the many vehicles that were stolen from you. The vehicle garage is impressive since LA Rush includes over 35 different licensed vehicles ranging from tuners, to muscles and exotics. In addition, West Coast Customs and Ride Magazine have designed 16 tricked out concept cars exclusively for LA Rush. Each of these vehicles is fully customizable by players with a large selection of parts and upgrades. LA Rush's vehicle lineup includes a number of cool vehicles with manufactures including Dodge, Cadillac, Hummer, Chevrolet, Pontiac, Buick, Lotus, Mitsubishi, Nissan and Subaru represented in the game. Some of the specific vehicles in the game include the Doge Viper SRT-10, Chevrolet Corvette & Impala, Pontiac GTO, Chevrolet Monte Carlo, Buick GNX, Mitsubishi Eclipse Spyder, Lance EVO V, Nissan 7 and more. The model years range from the 60's to 2005 with a variety of classic muscle cars and modern sports cars included in the game.
The vehicle selection should offer a good balance of speed and power, but what's even better is that is that each of these cars can be customized at West Coast Custom's world-famous shop with a variety of parts to trick them out. The selection of parts will include a number of real-world, top manufacturers including Dayton Wire Wheels, Extreme Dimensions, Carbon Creations, AEM & DC Sports, Nitrous Express, Borla Performance and Pro Charger to name a few. These parts will include both performance and cosmetic upgrades with new rims, tires, paint jobs and more giving your car an enhanced appearance, while other parts such as engine upgrades, spoilers, tires and nitrous will give you an extra push when you're racing against rival drivers. In addition to the licensed vehicles and parts, the game will also include an extensive soundtrack featuring more than 75 tracks from more than 25 rock and rap artists. Since he's in the game, it's no surprise that Twista is contributing a several songs to the mix, including two exclusive unreleased tracks. Other artists on the LA Rush soundtrack will include Lil Kim, DJ Rap and Damian Valentine, plus many others yet to be announced.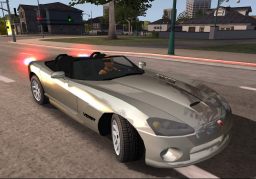 LA Rush's graphics engine is looking impressive, with solid looking vehicle models, detailed environments and an elaborate crash physics engine that has parts flying all over the screen after the crashes. The scope of LA Rush is also impressive and the developers have implemented authentic recreations of large portions of greater Los Angeles. Some of the areas of the city in the game include Hollywood, Downtown, Long Beach, Santa Monica, South Bay, and South Central. These large free-roaming levels will let players explore vast areas of the city as the look for rivals to race while uncovering clues to the locations of their lost vehicles. The gameplay itself will offer the fast paced, adrenaline fueled racing players have come to expect, with many of the series' trademarks include massive jumps, heart-pounding stunts and cool short-cuts through the city of angels. The gritty street based urban action will come alive with some amazing cinematic style stunt sequences to make an even greater rush. The game's physics will let players cause quite a bit of chaos with triggered events that add flair to the races. The vehicles will also take plenty of damage, with devastating crashes and massive pile-ups adding to the excitement. From a gameplay standpoint, LA Rush will mix the traditional arcade action with a new story mode that should give the gameplay plenty of depth and add to the replay value.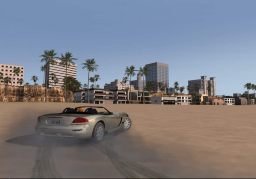 LA Rush's extensive storyline puts players in the role of Trikz, a street racer who's at the top of his game and decides to take a vacation. When he arrives home, he finds his rival, Lidell Rev. Angry, has stolen all of his rides and hurt, Trikz enters a series of underground racers to regain his garage and retake what's rightfully his. LA Rush's storyline looks quite elaborate with a many well-known actors and rappers appearing in key roles. Bill Bellamy plays Trikz with Orlando Jones playing Ty Mailx, his partner and sidekick during the game. Mega selling rapper Twista plays one of Trikz' main rivals, an incredibly dangerous opponent billed as the world's fastest man who's been brought to LA to by Lidell Rev to face off against Trikz. A number of characters from West Coast Customs Inc will also appear in the game, with famous employees including Ryan, Q, Mad Mike, Big Dane, Ish, and Alex adding their voices and likenesses to LA Rush. The game's story mode will involve playing several types of missions. These will include reacquire missions, where you race for respect while you try to find out where your stolen vehicles ended up. Players will also be able to challenge opponents in Retribution missions. These missions let you challenge the same crew who took Trikz' cars to even the score. After you win these races, you can take their prized cars to the shop and have them chopped up for spare parts for revenge. There are also Retribution Damage missions, where the object is to damage your opponents' property. These single player missions sound really intense and challenging, but LA Rush will also include a cool split-screen mode where you can challenge an opponent head-to-head. LA Rush's gameplay modes seem like they will create a well-rounded title with plenty of modes and challenges that should give it plenty of depth and challenge.
While the Rush series has been dormant for the past few years, Midway seems to have smartly added to the franchise's traditional core play with a number of contemporary elements. Borrowing from titles like Need For Speed Underground and Midnight Club, LA Rush's street racing enhances the series' arcade roots with extensive customization, an interesting backstory, different race modes and an urban aesthetic to create an interesting update for the racing series. With its impressive lineup of acting talent, excellent production values, and adrenaline-fueled gameplay, LA Rush has the potential to bring the series back to prominence.
LA Rush
Developer: Midway
Publisher: Midway
Platform: PS2, Xbox
Genre: Racing/Action
Release: October, 2005
> Related Articles

Preview: Gauntlet: Seven Sorrows (Multi)
Preview: 25 to Life (Multi)
Preview: Makai Kingdom (PS2)
Preview: One Piece Grand Battle (Multi)