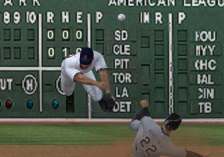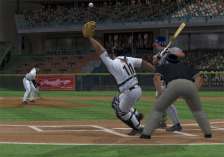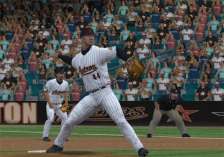 Players looking for a solid baseball title should check out MLB 06 - The Show for the PS2. The game offers a solid presentation with excellent graphics, play-by-play announcing and numerous gameplay enhancements such as an expanded career mode, deeper franchise mode and a new decision making system. The game's polished interface gives hitters a better shot by allowing them to guess the pitches, while pitchers can improve their odds with an extensive array of throws. MLB 06's presentation is a little bit rough and lacks the polish of some rival games, but the gameplay is still challenging and entertaining. While far from perfect, MLB 06 is a solidly entertaining game that shows improvement from previous games in the series.
Further polishing last year's installment, Sony's latest MLB 06 - The Show offers an impressive number of additional features, gameplay tweaks and graphical improvements that make this one of the most improved franchises on the console. The biggest change this time around lies in the career mode, which allows you to take a player and focus on their individual stats. Players will also find a number of changes in the game's interface that makes for a more intuitive game. The game offers a number of standard and special modes. You can choose to play either a single game, a full season or go deeper into franchise mode, where you make decisions on your players, This extends into a new Game Time Decision mode, where you have to decide which players to use, such as giving a pitcher rest or calling up a young DH in a clutch situation. This mostly applies in the franchise and season modes, and gives the game more realism and depth than before. Players can manage their rosters in much more detail, which makes for a more immersive gameplay experience. MLB 06 also allows you to manage a single player in its extensive career mode. This offers you the chance to play through a player's career, and make decision on when you'll practice, your play time and your abilities. Unlike last year's edition, you can see the impact your decisions have in a special Career spotlight, which is a reel that showcases your actions, good and bad. This is an interesting addition to the game, and one that's nicely implemented, working within the existing gameplay to add depth and excitement to the action on the field. MLB 06 also let players set other options, such as number of innings, the ability to turn commentary on or off, and can change other aspects of the gameplay.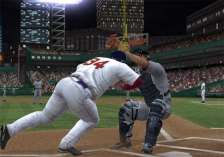 One of MLB 06's best new features is the implementation of a Rivalry mode. When you create a rivalry, the game keeps track of your statistics when you play against a highlighted player or battle against a team. This system allows you to keep track of your stats as you play over a single game, a season or through multiple years. This allows you to keep your interest level high through the series. In addition to these expected variations, the game also includes several special modes such as the traditional Home Run Derby and a new King of the Diamond mode. This is an arcade-style mode where a pitcher and batter fight it out in a timed mode. In King of the Diamond, the field has an array of signs on it. Hitting the ball into one of these signs causes an action such as a fly out, a double or a home run to occur. The bases are run by the computer AI automatically, and you gain time for homers, but lose seconds for striking out. Playing this mode occurs over multiple innings, and since the play here offers much higher scoring than traditional baseball, averaging 10 or so runs per half-inning, it's a fun addition to the game. These additional modes add some depth and replay value to the game, and implement some creative twists on what could have otherwise been a solid, but uninspired title.
MLB 06's on-field play is straightforward and shouldn't pose much of a problem for most players. The pitching/batting interface is easy to understand and fairly simple to use. On the mound, players have a number of options, and the game does an excellent job in recreating the strategies and nuance of pitching. Throwing the ball requires you to quickly select the pitch type and velocity, and aim your ball. You are given some aid with the addition of on-screen hot and cold zones that let you know where to aim the ball. The key is to keep the opposing batter off-guard by throwing a variety of pitches and staying away from center plate. As you play the game, you should get a good feel of which techniques work and which throws result in doubles. Consistently keeping the batter off-balance is tricky, but the game gives you at least 4 types of pitches to choose from, and this makes your job a bit easier. After you have selected your pitches, you can perform other actions such as throw outs. On the other side of the plate, batters will find timing of their swings to be an essential part of the gameplay. You also need to anticipate what the pitcher will throw and adjust your swing accordingly. MLB 06 factors this in beautifully with a new system that allows you to guess the pitch before it's thrown. A correct guess allows you to make contact effortlessly and usually results in at least a solid base hit while choosing wrongly almost always means the ball goes right by you. You can also swing without guessing the pitch, which simplifies things but makes contact with the ball less predictable. The game's pacing is fairly decent throughout, and the style and approach of MLB 06 mirrors the feel and atmosphere of a big league game effectively.
MLB 06's gameplay is excellent, its controls and interface effectively captures the sport's mechanics and overall feel nicely. Unfortunately, the game isn't quite as sharp when it comes to recreating the look and appearance of professional baseball. The developers have improved its presentation and visuals from last year's edition, but it still feels a little bit rough. Using a television-style approach helps somewhat, and th game's graphics are decent, with good animation of each on-field player. However, the models lack detail and don't move with the smoothness as in some other recent baseball titles. The motion capturing is decent and features multiple animations for each move, but they still feel a little bit jerky. However, the MLBPA license means you'll find many of the game's biggest stars included. The game includes the licenses to all major league baseball parks and each one has been faithfully reproduced in the game, from Fenway's infamous Green Monster to Kansas City's trademark fountains. Sadly, the level of detail isn't quite as impressive, as the fans in the stand look primitive. The game's presentation is decent and uses multiple camera angles and cutaway shots to give the player a good viewpoint on the action. MLB 06's commentary comes from a three man booth that offers a decent compliment to the action, though it tends to lag behind the action at certain points. It's a mixed bag overall. It has some areas that look slick, while others don't have as much polish as they could have.
While the game's visuals and presentation are still a bit behind the curve from a technical standpoint, there are still reasons to recommend the game. It's got a number of interesting and innovative game modes, such as the King of the Diamond mode, that are refreshing and fun to play. The basic mechanics are decent and gives the player a good amount of control when pitching and batting. SCEA's developers have also put some meat on the Franchise and Season modes, which adds depth to the game, allowing you to get further involved in your team's progress. MLB 06's deeper career mode is also interesting, and allows you to focus on the actions of a single player. Add some cool online features, such as tournaments, downloadable rosters and live news updates, and you have a decent title. The AI also seems better which brings some real competition to the field for a change. Despite some flaws here and there, MLB 06 - The Show is a surprisingly entertaining baseball title that while still far from perfect, is much improved from earlier installments.
> Related Reviews

MLB 06 - The Show (PSP)
FIFA Soccer 06 (PS2)
Gretzky NHL 2006 (PS2)
NBA '06 (PS2)