Over the past few years, Criterion's Burnout series blazed a unique trail in racing games with a frenetic mixture of high-octane speed, epic crashes and brilliantly realized visuals. On the other hand, EA's Need for Speed series seems to have veered wildly in different directions with good installments following disappointing editions in seemingly endless yearly upgrades, with little direction inherent in the series. Giving Criterion the controls for this year's installment has finally produced an excellent racing experience that lives up to the reputation built by earlier games while adding new innovations. Hot Pursuit takes the best of the series' cops n' robbers titles and brings a new sense of urgency to its gameplay with high-octane crash animations, intense racing action and a plethora of unlockable content to unlock. Set in the fictitious Seacrest County, Hot Pursuit lets you choose to play either as outlaw underground racers or the cops who are looking to shut them down. The game's events are split evenly between good and bad guys and you can jump back and forth between them as you wish. However, you only earn bounty points for the path you choose and you can transfer these points from one to the other. You begin with a few events on each side with a decent sized garage of vehicles to choose from. As in Need For Speed tradition, there's an array of super-powered sports cars at your disposal including rides from Porsche, Aston Martin, Ford and more. The models sport realistic body work and most can be customized by color as well. The game's main draw comes in the races themselves which include a good variety of events. These include point-to-point races, which are straightforward enough, one-on-one events, time trial modes and more of the usual types.

What makes the gameplay so exciting isn't the game modes, but what happens on the road. In Hot Pursuit, much like Burnout, one of the key elements is Nitrous. This gives your vehicle a quick speed burst and allows you to zoom past competitors. In order to earn more of this miracle liquid, you have to drive dangerously, such as on the wrong side of the road, or by following an opponent's slipstream. Avoiding crashes and barreling through police barricades is another key element in the game. Its much harder than it sounds because the oncoming vehicles scream at you and quick reflexes are needed to get out of their way. One of the best parts about the game are its controls, which are smooth, responsive and quite effective. Turning is easily accomplished by learning ahead of time where the turns are and anticipating when you need to use the brakes. Using the radar helps a little bit and its easy to understand and gives you notice as to whether the next turn is easy or sharp. Learning how to drift and timing your acceleration is another tricky task but something most players should be able to get the hang of. The game's multiple viewpoints are effective and allow you a good point of view no matter if you prefer a first-person perspective or want to see the car traversing Hot Pursuit's roads. It's only major flaw comes in the shortcuts which are somewhat hard to use and occasionally trick players into taking a slower route. Of course, many of these are off-road sections, so they also reduce your speed. Knowing whether or not to use one of them requires some trial and error, but you should be able to get the hang of them after a few practice runs.

Your opponents are quite aggressive in each race, and they'll bump and scratch your car and event try and knock you off the road in order to finish. Learning the layout of each course requires you to make split-second decisions and while the standard route usually works best, each race also has a number of short-cuts, which you can take if you want to go a little faster. You can also use these if you want to evade police cars and through them off your trail. Playing through the various modes takes quite a bit of time and shows that there's plenty of variety to be had in Hot Pursuit. In addition to standard races, there are also single vehicle modes where you have to race a specific vehicle through a challenging course to beat the best time, or make it through a hot pursuit without having your car destroyed. When playing as an underground racer, you have other special abilities besides nitrous. These include radar jamming EMT devices that can put nearby cops out of commission for a short time, spike strips which can slow down your opponents and damage them. Later on, players can also unlock the ability to use other weapons and a special turbo boost to help them speed through the course. However, these are limited use items and should be implemented only when you're sure they'll be effective. Playing as the cops offers a similar set of mission types, but there are some subtle differences that make these missions challenging. For example, in time trial modes, you're penalized for crashing into walls and for collisions with civilian vehicles, which makes them a lot harder. Basic ramming techniques are effective at stopping the racers when you're a cop, but you can also use some of the same high-tech devices such as radar jammers to end their races. You can also call in reinforcements to erect police barricades and even call in helicopters at some stages. This makes the pursuit missions some of the most exciting and intense in the game, and give NFS Hot Pursuit an energy and drama that most other racing titles lack.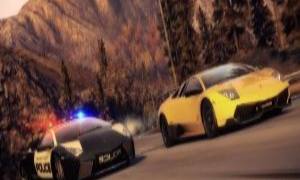 The single player modes are brilliantly executed, but the most innovative feature of NFS: Hot Pursuits comes in the implementation of its online mode, called Autolog. While Criterion and EA could have been content offering a basic set of features, they've gone several steps into the social network realm with the new Autolog feature. Logging in allows players to compete in a number of different events. Keeping track of friends and is easy and status updates automatically in the interface, which also allows you to stay informed of new downloads and other NFS news. You need some friends to compete with and these can be found quickly be competing in automatic events. These include the standard race types you'll find in career mode though some events, such as Hot Pursuit have you competing as a team. The objective in these events is to either cross the finish line before the cops stop you or stop the racers from ending their race without crashing. The unpredictability of these races maks them even more exciting than their offline counterparts, and ratchets up the intensity of NFS races. In addition, you can post messages on your wall between races and take photos and post them on your own page as well, which gives the game a true sense of community. While it might seem like a tremendously difficult task, you should have no trouble filling your friends roster quickly as you play. After you have a small group of friends that you can use to compete against and try and place highest on the speed-wall. Successfully doing so allows you to earn even more extra bounty points that you can apply to career mode. This is an interesting tactic to keep players motivated online, allowing you to unlock additional items much faster. You can also change your settings in number of ways to create customize events, invite only specific players and other additional options. One of the best features of Autolog is its ability to recommend races to you, which means you can jump right on the track and compete against friends without having to navigate endless menus and lists. This makes for an even more sophisticated online experience and gives the game a true sense of community. NFS: Hot Pursuit's Autolog feature is seamless integrated into the main game and its functionality and ties to the main solo game make it an essential part of the gameplay experience. It's definitely one of the more innovative features and approaches to the racing genre we've seen in recent years.
Despite their differences, both online and solo modes of the game have a lot in common. As you'd expect from Criterion, the graphics engine is superb. Hot Pursuit's richly detailed environments range from mountains covered in snow to deserts. Players will also encounter dry and wet surfaces and have to contend with day and night driving. Light sourcing is superb and the level of detail on all the vehicles is excellent as well. The level of polish that has gone into the game is superb - everything from the lightning in the distance to the flashing police sirens looks authentic and realistic while the sense of speed and massively over-the-top crash animations give NFS: Hot Pursuit and fantastic feeling of hyper-reality that makes the game an arcade-style romp that's a joy to play. It's open-ended courses deliver plenty of variety in terms of layout as well, with long straights and tight corners that should keep players challenged for quite some time. Unlike many other racers, Hot Pursuit's open-ended structure makes it easy to play for quick bursts or extended periods and the high-frequency of unlockables keeps you motivated to keep playing for extended periods. Keeping with the NFS tradition, the collection of high-powered vehicles you can acquire and drive is quite impressive and since both sides have access to these super-cars, it's just as much fun to play on the law-enforcement side as it is to become a street racer. There's definitely been a lot of anticipation surrounding Need for Speed: Hot Pursuit and its good to report the advance notice surrounding the game has been entirely justified. This is probably the best in the Need for Speed series since Most Wanted came out five years ago, and its leaps ahead of recent NFS disappointments like ProStreet and Underground. It's one of the sleekest and most enjoyable racers we've played this year and definitely ranks as one of the season's must-buy titles.

- Michael Palisano