Marumasa: The Demon Blade (Ignition for Wii)
Those who followed cult Japanese developers Vanillaware over the years were thrilled to find out that the same people behind Princess Crown and Odin Sphere were going to release another title on Wii. That was some of the best news of the year for hardcore gamers. They delivered another title in this loosely connected series with Marumasa, an excellent hack and slash action title with some unique play mechanics and fun gameplay. It did become a bit redundant, but with two playable characters, loads of secrets and classic 2D gameplay, this was one of the year's biggest sleepers. A lush storyline is complimented with excellent music, hand-drawn beautiful visuals with gorgeous backgrounds and fluid sprites made this one of the best classically themed games out this year on the Wii.

King of Fighters XII (SNK Playmore for Playstation 3)
There was a pronounced resurgence in classic versus fighting games over the year. SNK's long-running King of Fighters series received a fairly big update this year, though it was overshadowed a bit by SF IV. The latest installment was an excellent edition. KOF XII brings streamlined play mechanics and upgraded graphics to the table and delivers what players have come to expect from the franchise. It's 22 characters was a bit smaller than usual, but still offered a mix of familiar and new characters, with many modes of play included as well. The move list and fighting system has been simplified to allow newer players to perform special attacks with much less effort. This makes for a more accessible title that delivers traditional 2D fighting, while not losing its essential hardcore appeal. While it wasn't the most hyped 2D fighter, it was definitely a solid installment that brought the series into the HD era successfully.
Blast Works (Majesco for Wii)
Easy to overlook in the bargain bins, the surprisingly enjoyable Blast Works is a fairly interesting side-scrolling shooter that has some interesting play mechanics and a winning, cute design. It allows you to collect enemies and add to your firepower, which gives it a completely unique feel. This makes for one of the most enjoyable and innovative shooters we've played in some time. Based on this alone, the title would be worth buying, but its extensive level editing feature adds plenty of replay value by allowing players to design, play and share their own levels. This title represents is an impressive example of a smartly implemented approach to user-generated content that makes this largely unheralded Wii release worth picking up for gamers who want to do more than just play the game.
Ninja Gaiden Sigma 2 (Tecmo for Playstation 3)
While it probably got overlooked next to bigger releases, Ninja Gaiden Sigma 2 is the definitive version of Team Ninja's classic Ninja Gaiden II, refined for an excellent PS3 update. While the basic parameters are fairly similar, the new revision is more than a port - with new levels, bosses and additions. Several new gameplay modes, including the viscerally thrilling team missions give the game much more content than the original release. The gameplay has also been tweaked, with new additions, such as impressive boss battles, giving Sigma 2 some unpredictable twists. Graphical enhancements include a steadier frame rate and smoother animations. These changes makes Ninja Gaiden Sigma 2 a superior choice over the original and a definite must-buy and a great addition to any gamers' library.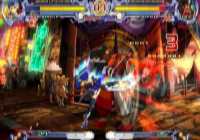 BlazBlue: Calamity Trigger (Arc Systems for PS3/Xbox 360)
Arc Systems, the creators of Guilty Gear, created a unique title offers gameplay that is both familiar and different. It's another 2D fighter in a similar style, but has unique elements such as distortion attacks and moves, that make it feel unique. Its characters are somewhat less balanced and the gameplay moves at a slower pace. BlazBlue's multiple modes including versus fighting, an extensive story mode and extensive online support. Blaze Blu's beautifully designed HD visuals explode from the screen with lush 2D anime-style character animation, excellent 3D backgrounds and extensive voice-overs. Its intricate fighting system makes BlazBlue: Calamity Trigger an unapologetically hardcore fighter, but its excellent mechanics and challenging gameplay make for a challenging 2D fighting title.

Qubed (Atari for Xbox 360)

Combining three of Q? Entertainment's seminal Xbox releases in a single, low-priced package, Qubed offers a distinctly playable gaming experience most players won't want to miss. The package includes Rez HD, Every Extend Extra Extreme and Lumines Live. Each of the three games delivers an intense, surreal cybernetic experience that mixes beautiful CGI graphics, intense techno music and synchs them together to create memorable titles that can't be easily classified or pigeonholed. Addictive shooting action and challenging gameplay make these both modern and timeless. Those players who were unfortunate enough to have missed these games in their original release can now have access to all of them in a low-priced package which might make a great holiday stocking stuffer for the hardcore gamer in your life this year.

Punch-Out!! (Nintendo for Wii)
This reboot of Nintendo's long-dormant, but much-loved Punch-Out!! franchise stays very true to its original format and style. Players will face an array of classic boxers including the famous Glass Joe and King Hippo along with a smattering of new characters. The game plays and feels very much as it did in the classic years, and many of the strategies and moves you remember work here as well. There are a few new twists, such as a cool split-screen multiplayer mode, but this version of Punch-Out!! stays very true to its inspiration. While younger players should enjoy the series, it seems targeted mostly to gamers who loved the original, making it a truly classic experience that shouldn't be missed by players who grew up on this series. New Super Mario Bros. Wii got a lot of attention, but gamers shouldn't overlook how much fun this game was.

Raiden IV & Raiden Fighters Aces (UFO for Xbox 360)
The shooting revival was actually most robust on the Xbox 360, which enjoyed many fine releases on Xbox Live this year. For those disc-based gamers who wanted something more permanent, this pair of releases definitely delivered the goods. Raiden IV represented the latest in the long running series and had the brilliant graphics and tight gameplay we've come to expect from the series, hardcore elements intact. Playing in Tate mode made it even better. Raiden Fighter Aces was another fine release, with 3 awesome titles on a single disc, meaning it had endless replay value for the vertically-scrolling inclined. Fans of these classic shooters couldn't have asked for better.
Ultimate Shooting Collection (Wii)
Combining three classic vertically scrolling shooters in a single disc, Ultimate Shooting Collection from UFO Games on the Wii offers gamers a solid dose of high-intensity bullet shredding action. Included are Karous, Radirgy and Chaos Field - all originally developed on the Dreamcast, and appearing here in the states in much cheaper, non-import form. Each title delivers a unique spin on the genre, with elaborate power-ups, multiple shooting planes and excellent play mechanics that are challenging and highly entertaining. Visually, the games run the gamut from high-tech sophistication to light-hearted humor. The games share certain play mechanics and styles, making for a cohesive collection that brings solidly entertaining arcade shooting to the Wii in a diverse and affordable package.