Despite a few missteps over the past few years, Konami's long-running Pro Evolution Soccer series keeps gradually improving in many key areas. This year's installment doesn't figure to dethrone FIFA, but its represents several solid steps forward for the franchise. While other sports titles seem to change dramatically from year to year, PES has maintained a remarkable consistency through the years. This year's edition doesn't offer wholesale change, but there are some interesting tweaks to the formula. PES' 360 degree control system has been refined in some key ways and now feels a little tighter and more responsive than it did - which gives you added control and more flexibility. This is most noticeable when passing, which is both more accurate and less forgiving than it was in past installments. Shooting and aiming the ball is a bit less daunting than you'd think, but its still going to take a lot of skill to get the ball inside the net. One of the more significant changes in the way PES 2011 plays comes in its passing and dribbling system which is more realistic this year. Instead of going for long runs as in the older games, the new game has a slightly different approach that's slightly more realistic. You'll have to work in order to move up the field and there's much more aggressive AI that makes it harder to avoid tackles. This makes it more difficult to get through your opponents and rewards faster passes that put you in less danger. Pushing the ball through requires a bit more skill and forethought, and you'll have to strategize a bit more and think ahead. This emphasis on strategy leads to a much more playable installment that has a lot more longevity in it than you'd think it would. Players will find a lot of depth in creating set-pieces, carving paths through an opponent's defenses and making great shots while keeping their opponents at bay. PES does an excellent job in bringing this nuance to the player without falling into the trap of becoming a dry intimidating simulation.

On the field, PES action remains exciting and engaging. Each match's pacing is a bit more realistic this year as well, though its still mostly action-packed. PES 2011 generally fast pace is bracketed with slower sections that build up to a climax as your players move up the field, while the pacing generally increases when you approach the goal section. Getting through the defenders isn't as easy as it was in previous games and they seem to lock onto your position much quicker, which makes for a challenging title that requires you to anticipate their positions and look for ways around them. Once you get into the goal area, things remain challenging since the keepers don't hesitate to run right up to you and block your attempts. You definitely need to be quicker with your shots this time around but you can still do some damage once you learn how the game reacts to your moves and understand how its defense operates. It sounds more complicated than it is in practice, which is due in large part to the game's intuitive controls which make PES 2011 play smoothly. Players pass and dribble seamlessly on offensive, while defensive moves are easy to use and effective. You can perform a number of special moves easily and change tactics immediately with little loss in the overall flow of each match. Advanced players now have the ability to map their favorite moves to the controller, which makes the gameplay even more instinctive when its implemented. What makes PES such a joy to play is the smoothness in which all these elements come together, creating a game that's highly playable with enough complexity for hard core fans while remaining accessible for novice players.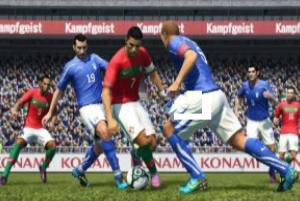 The game's solid gameplay mechanics and play value are backed up with some excellent additional features. Before you get ready for real competition, you can compete in practice matches and tune up your skills, play friendly matches against opponents without any real stakes or choose to play a full season of games in the tournament modes. While PES 2011 has a limited number of licenses, it does include three major exclusives: England's Champions League, the UEFA Cup from Europe and Copa Santander Libertadores tournaments from Latin America. Most of the famous players and their accompanying teams are also included here. Each league can be played in single matches or tournament mode, which gives these modes plenty of depth. No matter which modes you select, you can choose to play in single matches or go through an entire season of championship play, which gives the game added depth. PES also includes the ability to go behind the scenes in its Master League mode. In this section, you can play as the general manager of the team, buying, selling and trading for players to add to your squad or bidding against others in the open market. As usual, your objective is to advance your club from the bottom rungs to the elite leagues while earning profit and keeping your fans happy. Konami goes one step further this year and allows you to play in the Master League online with other players, which should make this mode even more interesting. Players can also choose to create and compete as a solo player in the Become A Legend mode. Here, you tackle the role of a single player and go through matches, earning points for your skills on the field and working your way up the ranks. Its sort of interesting, but the implementation is still a little rough around the edges. One major drawback to PES has always been its limited number of official licenses, but the good news is that you can create your own teams from scratch and make rough approximations of your favorites. In addition, most of the major name players are included in the game as well. As far as teams go, there's a couple of major names such as Manchester United, Barcelona and Real Madrid making up this year's slate of rotating star clubs. Given these limitations, its impressive how accurately the game captures the excitement and drama of real professional soccer, with its tension filled rivalries and intense matches.
From a visual standpoint, this is the best-looking PES title to date. It's animations are smooth and fluid and each character's movement is more lifelike. Konami has done impressive work and has added tons of new animations to give each player a more realistic appearance. The game looks great and offers multiple points of view ranging from long-range over-head shots that let you see the whole field, or in a close-in that allows you to keep track of individual players. This is especially helpful in the Legend mode. You can switch between views at will and can also use the game's replay function to relive great moments or see where you went wrong. One new feature this year is the drag and drop mode in Master League, which makes managing your team much faster and more intuitive. As usual, the game's spot commentary is well-done and helps to immerse you into the action. These changes and upgrades make for an excellent looking game overall. Despite lacking the polish and licenses of FIFA, Pro Evolution Soccer 2011 remains a solid soccer title that offers plenty of depth, solid gameplay mechanics and polished visuals that marks it as another solid installment in Konami's respected sports franchise. The intuitive controls and fast action give it a unique feel and this makes PES a good alternative if you want a slightly different approach to the sport.

- Michael Palisano