The last PES from Konami's famed soccer studio arrived on the Wii to good notices, and the latest installment adds several new features to the mix that make for an enhanced and deeper simulation. The highlights this year include added customization features, new multiplayer modes and a generally smoother gameplay interface. The biggest twist this year is the inclusion of three unique control interfaces. First up is the Wii-mote and nunchuck mode which offers a unique system where you use the wii-mote to point at the player you wish to control. Once you have the ball in your possession, you choose which direction they run using the nunchuck, while using the wiimote to aim shots and passes. When you want to shoot, you simply shake the wiimote to kick the ball, where the velocity and height is determined by how hard you shake. It takes some getting used to for players accustomed to more traditional soccer interfaces, but the PES control system works well once you get used to it. Players looking for a more traditional style of play will be happy to learn that PES 2009 supports the classic controller, which allows for a very normal style of play in the usual Konami style. If this isn't enough, you can also choose to use a hybrid system where you use a combination of both styles throughout the game. All of these modes are fairly well implemented, and the gameplay doesn't change dramatically if you use different systems. What's interesting about the way Konami has designed the game is that it plays to the Wii's strengths in terms of controls, showing that the console's unique interface is particularly well-suited to sports titles, helping to bring a new dimension of control to the gameplay that the other systems can't duplicate.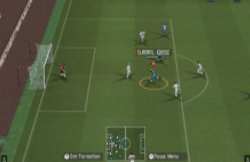 The changes to the game are subtle, and for the most part, PES 2009 on Wii looks and plays quite smoothly with pacing and function very similar to last year's installment. One of the subtle changes that you might notice is the increased difficulty in the AI mechanics, where your opponents will more aggressively charge and tackle your team. The increased pressure makes things more difficult, but ultimately more satisfying. A deep layer of tactics and techniques underlies the action, and you'll need to study and counter your opponents' moves on and off the field as well. The solid gameplay mechanics extend to individual players as well, with each having their own strengths and weaknesses. Getting the right players to the perfect locations isn't always easy, but it pays off when the situation falls in your favor. Its this detailed and sophisticated approach to soccer that makes PES so appealing. From a gaming standpoint, this installment delivers what players have come to expect from the series. It doesn't have all the officially licensed teams and players that other games have, but PES 2009 has a number of high-profile teams including AC Milan, Manchester United, Celtic, Real Madrid and many other teams. You can also edit your own teams to fill in any gaps, though its time consuming to make up kits and enter your own rosters. Even though the team logos and kits might be slightly different, the game compensates by including an impressive roster of licensed players. Big names like Beckham, Ronaldo and Kaka make appearances in PES 2009, which gives you access to plenty of professional soccer players on your team. While its not as logo heavy as other soccer titles, PES' most significant change this time around is its use of the UEFA Champions League license, which adds an entirely new mode of play where you can compete in this world famous tournament with your favorite team and see how your squad compares against the elite clubs. It makes for a much deeper and more satisfying experience overall, with the enhanced production values and added dramatics spilling over to the rest of the game as well.
Adding to the UEFA mode, you can choose from a number of modes including a Training mode where you can learn how to use the wiimote effectively during a match. Learning the techniques behind passing, shooting, tackling and running doesn't take too long thanks to the speedy tutorial mode, which unfolds quickly as a series of mini-games. You can also take your club through the UEFA tournament in Champions League mode, where you compete for the famous trophy. There's also the usual expected Single match, and Cup modes that allow you to play either a short tournament against other teams in your bracket. You can also create and customize your own leagues and championships, which adds to the game's replay value. All of this builds successfully on the previous installments, but Konami hasn't stopped there. The biggest new addition to the game, from a gameplay standpoint, is PES 2009's Become a Legend mode. This is an exciting mode that allows you to create your own player from scratch. You can customize their appearance, set up their position and build up their skill sets. Once created, your avatar can, compete in matches with your club, go up the ranks depending on your performance on the field. It marks a nice change of pace from the team-oriented gameplay in previous titles, and it's a bit challenging to hold back in your position. You have to be careful not to make a mess of things and not get in the way, since you're being watched by scouts for other teams at all times. As you compete in matches in this mode and add to your skills, you'll be rewarded with better contracts and transfer offers. Once you've created your character, they can be used in many other modes of play and you can even use them online against other players. The system in this mode is well designed, with easy to navigate menus making it easy to track your progress.
In addition to these standard single player modes, you can compete against other players online using the Network mode where you can set up and play matches with players around the world. Matches are easy to set up and play using the onscreen menus and lobbies, and the games unfold at an excellent pace that delivers the same level of excitement you'd expect from a console game. PES 2009 also offers a deep, simulation style of play with its Master League mode where you can compete over the course of a season against other teams both on the field and behind the scenes using transfers and trades. Before each match begins, players can set up a variety of options including formations, length of matches, rosters and positions in addition to weather and difficulty settings to name just a few. This gives you plenty of flexibility and allows you to play the game in whatever style you like and allows you to experiment with different formations and strategies to figure out which one best suits your team's abilities.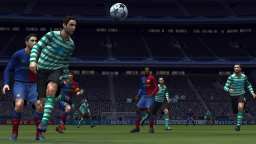 One area where the Wii version falters is in its on-field presentation, which lacks the polish and style of other versions. Instead of multiple camera angles available in other versions, you are locked in with two above the field modes which are fine, but somewhat limiting. Given the requirements of the Motion sensing controller to point at players, this is probably the only decision Konami could have made, still it would have been nice to zoom in on the action. The character models and animations are decent, but those expecting the Wii to match the HD quality visuals in other versions are probably going to be disappointed. That said, the game's unique controls and interface show the Wii console's strengths in other ways, and make this version play and feel quite unique when it comes to the on-field action. Implementing classic controls is probably a smart move as well, though it does kind of miss the point. In terms of its overall pacing and feel, the game offers players the same high-quality PES style of play they've come to expect and while its basic mechanics haven't evolved too much with this installment, there's still plenty enough here to like that PES 2009 merits a strong recommendation for Wii owners looking for a solid sports title.

- Michael Palisano