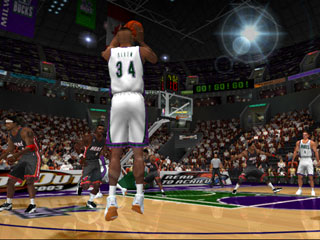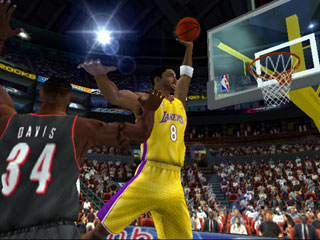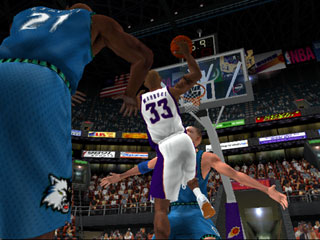 Sony's 989 Sports label takes it to the hoop with the latest PS2 basketball title, NBA Shootout 2003. With new features such as a slam-dunk contest, customizable players, a summer league plus enhanced controls, this is a vast improvement over previous editions. NBA Shootout's visuals have also undergone a major upgrade but are these changes enough to land it in the elite leagues? The Laser goes down-court to see if this installment cuts it up.
Despite the label's checkered history with sports titles, Sony hasn't given up on getting their slice of the pie. Their recent football titles were noticeably better and now the company is set to hit the hardwood with this year's NBA Shootout 2003. This is 989's latest pro-basketball title for the PS2, not to be confused with their college sim, Final Four. While previous editions have sat patiently on the sidelines while the big boys battled it out, 989 hasn't given up yet. This year's NBA Shootout has a bevy of new features and some significant control improvements that mark major improvements in gameplay while adding to the series depth. Several modes of play are included including a new career mode where you can build up a player through training in the NBA Development League all the way to being an NBA rookie. This is quite exciting and adds a new level of almost RPG like play to the game. At the start of this mode, you can edit almost any imaginable attributes of your created player, from facial hair to free-throw percentage. You can also adjust their skill areas in both offensive and defensive areas. Your player can work on his weaknesses and strengths with practice sessions and experience playing in the summer league, to hopefully earn a spot on an NBA team.
Other new features include a new slam dunk contest for players who want to compete head to head with superstars. Other modes allow you to practice, play an exhibition game or go through an entire season in career mode. In career mode, you have a chance to play an entire season, and reach the playoffs and the championship. After each game, the game offers a complete set of statistics and get a numerical look at the team. The all-star game is also included, and you can also gauge your team's success by how many votes your players have. Between games, you can also trade, draft or dump players plus sign free agents during the season. Other options can be adjusted during the game where you can switch between a variety of camera views and turn the commentary on and off. Of course, Shootout 2003 features the usual array real NBA players, real team names, logos and uniforms and even real announcers that makes it feel quite realistic and authentic. Other options can be adjusted, including length, foul sensitivity, player positions, blocking and more. Once you're done setting up, it's time to hit the court, where the many changes have become quite apparent.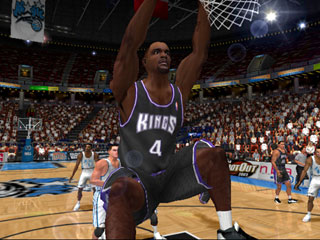 Previous games in the Shootout series suffered from choppy controls, the 2003 edition of the game plays much smoother now with a much more intuitive interface. Shootout's controls have also been tweaked substantially to allow for better switches and ball movement. Players will find that passing and running feel much better than they have in previous games. Team AI is smoother as well, because the others seem to play more cohesively than before. One new feature allows you to customize and create your own dunks. This control system overhaul makes playing the game far less frustrating. It's been redesigned, and is much cooler in its implementation. This is especially true in the free-throw mode, where you have to use both analog sticks to make an accurate shot. Players can use the on-screen icons to select which player to throw to, and can also charge the net if they so desire. This simple system is decent and straightforward, though it seems a little bit clunky at times, especially when you're stuck in traffic. On the other hand, the menu system is well done and allows you to make adjustments quickly and easily. However, it still feels a little rough in spots, but this is still a decent approach and works well for the most part. While the controls are still a tad behind the competition, the increased depth, improved controls and better AI make this release a major step forward.
The biggest improvements seem to lie in the visuals, which have been substantially upgraded. With its improved player modeling, better facial expressions, player animations and more details such as tattoos, NBA Shootout 2003 has a more realistic look. Other changes aren't as obvious. Shootout's gameplay has also been tweaked, with better AI which makes the opposing teams play more aggressively. Players can also change their strategy during the game. This is possible because it also features accurate NBA team rule-books and strategies, allowing you to develop strategies that play to your team's abilities. NBA Shootout also allows you to change player positions, such as switching a center with a blocker, to make a more effective configuration. The most significant change in the new installment is the addition of a new dynamic dribbling system which lets you adjust the speed and tempo of the ball as you run. It doesn't work quite as well as it sounds, but it does give the player an increased sense of control.
Presentation is another area where Shootout 2003 outdoes it's ancestors, gamers will now find a two man booth, which makes for much livelier commentary. The courts seem to be more detailed and these richer arenas make the game feel much better than previous games. With all the new control mechanics and style of play, it's hard to find too many problem areas, but there are unfortunately, some areas need some more gloss. The controls are nice, but throwing seems to be much harder than in previous games. While the new free-throw system is cool in concept, it's a lot harder to make these shots than it should be. Another problem comes with the opposing teams who seem to always seem to be in the worst possible defensive position, making it very hard to score consistently. However, these are minor problems when compared to all the good points. The increased depth is very much appreciated, and some of the new modes are quite cool. The player development system is excellent, and adds a lot to the game. The graphical improvements are subtle and significant, making for one of the better looking PS2 sports games to date, just from the realism of the player models, which has made a huge improvement. Improvement seems to be 989's key phrase this season, and while it's not perfect, it's an excellent basketball title that should keep fans quite happy for some time.





> Related Reviews

NFL 2K3 (PS2)
NCAA GameBreaker 2003 (PS2)
NFL GameDay 2003 (PS2)