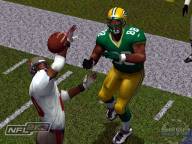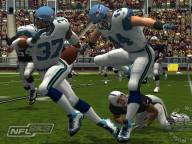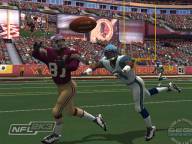 The partnership between Visual Concepts and Sega has produced some fantastic football titles over the past few years, and this winning combination continues with NFL 2K3 on the PS2. Featuring an improved graphics engine and some impressive new gameplay enhancements, the series is gradually edging closer to Madden with each passing year. Add in the ESPN license and improved presentation for even more icing on the cake. Aside from all of this, thereís also the inclusion of online play, making the current installment is the best in the series to date.
While the Dreamcast didnít succeed in the marketplace, its legacy as one of the best sports gaming platforms ever made lives on with Visual Concepts and Sega constantly topping themselves. Itís reached a point, than in the past two years, Segaís NFL 2K series has rapidly become the biggest threat EA has faced in a long time and the company edges ever closer to the throne with each passing year. While many enhancements are subtle, the most immediate change is the new ESPN license. This adds to the authenticity of the experience and is integrated seamlessly into the game. Itís utilized quite effectively throughout to amp up the action and allows a much better presentation including replays, split-screen modes, wrap-ups plus authentic TV-style play-by-play with a two-man team. This was a smart move, because the ESPN presentation adds much to the game and gives what was already great an even sleeker feel. The graphics also look fantastic with excellent animation, player motion and detail evident in the new character models. All the NFL stadiums are also included in this game, and have been reproduced faithfully. Overall, this title has the best production values and presentation seen in a Sega Sports title to date and should really set the bar even higher next season.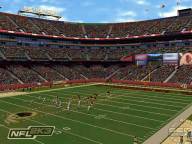 There are the standard modes including single game, season, tournament and, practice game. However, NFL 2K3 includes additional modes that allow you to play situations, or scenarios involving different teams. Sample scenarios include the ability to recreate tense Super Bowl moments, complete a last minute pass or try to get your team out of a deep 3rd quarter hole. More options include player editing, playbook editing and coaching tools including the ability to replay each down by watching instant replays. NFL 2K3 has been pumped up in the basics, and these new feature-sets make it an outstanding simulation, with more depth and strategy than ever before. The interface makes calling your play a snap. Once you break the huddle, Segaís trademark fast play action makes each game competitive and exciting. Itís frenetic and fun but NFL2K3ís deeper stats and playbooks make it more satisfying than ever.

While all the modes outlined above are great, NFL 2K3 also includes an entirely new Franchise mode where you can become the general manager. You are in the front office and your task is to keep your team in contention through a single season or multiple years. This allows you to manage your team by signing free-agents, making trades, setting payrolls to avoid the cap, and even scout for emerging players in the NFLís college draft. This allows you to add to your roster but you need to be careful not to overdo it. Scouting takes time and money, so you should only do this with the most promising players. You also hold contract negotiations, look at the free-agent wire, and manage your coaches. Football fanatics will also be pleased that you can import team rosters from Segaís NCAA College Football 2K3 title, which is really awesome. In addition to managing the team, you can also coach players. This means that in addition to playing on Sundays, you can schedule practices, work with players on problem areas and make changes to the roster as you see fit. These work hand-in-hand to give NFL2K3 a comprehensive sim element, which compliments the on-field action nicely.
NFL 2K3ís authenticity goes deeper than the ESPN license because every team roster and player has been faithfully reproduced, including the new Houston Texans and this seasonís realigned division structure. This is excellent, but the game also allows you to go online and download updated rosters, which adds to the realism even more. Players can also deviate from the called play if they want, adjusting their strategies on the fly. Each team has a complete playbook that matches the actual on-field strategies used in football. Sega has once again upped the ante, and the title excels in this area, offering plenty of strategy and depth.

As usual, NFL 2K3ís interface is simple to understand with players using the analog controller to move the cursor, making play calling intuitive and simple without sacrificing play. Once the ball is in play, running and passing controls are intuitive and easy to understand and the game wastes little time in getting into the action. This faster pace has always been the 2K seriesí main appeal, and this installment doesnít deviate from that path. The AI has been improved noticeably from previous games, especially in the passing and running, which feel a lot closer to actual NFL play, instead of the gimmicky runs of the past, you now have to work harder for each yard and inch. The AI of opposing players has been markedly improved as well, with much harder to anticipate plays and moves making for more challenging football experience.



While all these small and large changes are impressive, another selling point is that NFL 2K3 is also the one of the first PS2 titles to feature online play, using the PS2ís newly minted Network Adaptor. As noted before, you can log on to update rosters, or can join in with another player. In testing, this feature worked flawlessly with few log-in problems and rarely crashed. We found the game worked well online. NFL 2K3ís smooth interface and matching system both working transparently with the cable modem to make a seamless online experience. Since thereís no added connection fee, this represents incredible value and gives the game a whole new dimension. However, those without modem connectivity can still play the old fashioned way using the standard second controller and split screen approach which looks decent, as youíd expect.
Despite all the progress Sega has made, it a sure thing that many casual players will prefer the cerebral Madden approach, while others will enjoy NFL2K3ís emphasis on action. This is subjective, but NFL 2K3 is definitely more fun for the casual football fan, but the increased depth should the hardcore football crowd because NFL 2K3ís new franchise mode is a lot of fun, and the coaching just adds to the depth. The gameís visuals and presentation have been vastly improved, thanks largely to the ESPN tie-in, though there are still a few glitches. From a gameplay standpoint, Sega and Visual Conceptsí newest football title is more fun and enjoyable because the faster play, intuitive controls and sophisticated AI makes for some exciting football. Even though the improvements seem minor, the overall effect is quite a leap forward from last yearís edition. NFL 2K3 is by far the best Sega football title to date and definitely delivers what it promises, both online and off. The only question is whether Sega will finally beat EA at its own game. We could make a prediction, but weíll wait for next year to find the answer.





> Related Reviews

NCAA GameBreaker 2003 (PS2)
NFL Gameday 2003 (PS2)
NCAA Final Four 2002 (PS2)
Hot Shots Golf 3 (PS2)
SOCOM: US Navy Seals (PS2)