Continuing Sony's popular karaoke series, Singstar 80's & Singstar Amped bring wildly divergent genres to the franchises. Using the included microphones, you sing along and try to match the pitch, lyrics and pacing of the songs accurately. Doing so scores points and increases your rankings. You can also choose to sing freestyle as well or compete against another player head to head or in other modes. Both titles share the same basic interface, gameplay modes and challenging songs, so which one you prefer is largely a matter of taste. Join us as we take a look at this duet of signing games and see why they make beautiful music together.
The previous installments in the Singstar series offered players a broad selection of music from a wide variety of genres in order to appeal to as wide an audience as possible. With this pair of releases, the series seems to have narrowed its scope and is now more focused on smaller parts of music. Singstar 80's features an array of pop hits from two decades ago and is obviously aimed at a mainstream audience, while Singstar Amped brings out heavier songs for a more hard rocking good time. One thing that hasn't changed is the immediate appeal of both games' interface and controls. This simple approach should make it instantly enjoyable for gamers and aspiring singers alike. It's not that hard to understand and most players should be able to have fun right away. In order to play the game, you need to use a pair of studio-quality microphones. These are available separately or bundled with Singstar, which is good if you bought the first game and don't need an extra set. Its microphones are solidly constructed and players can connect to the console via a USB interface. The games work well with either the PS2 or PS3 without the need for any adaptors. No matter which system you use, connecting the microphones and setting up the game is a fairly simple task and the simple menus are easy to navigate and use. For those who played the earlier Singstar titles, these editions use similar menus and options. This means that most players should be able to play through the game almost immediately.
Both Singstar Amped and Singstar 80's offers several modes of play including a performance mode where you sing along to each song. While the track is playing, a series of bars will scroll across the bottom of the screen, these indicate the timing and rhythm of each song. Singing at the same speed and pitch as the bars will increase your score and allow you to continue. Players who want to practice can also use the Freestyle mode to learn the basics of each song and get the hang of things without having to worry about their score or rankings. In addition to these fairly standard Karoake modes, players can also use the EyeToy camera to view themselves as they sing along to the songs. The objective in Singstar is relatively simple: the more accurately you sing to the song, the better your rankings. Chaining multiple successful bars adds even more to your score, rewarding consistency and reliability. In order to help things along, the lyrics for each song scroll across the bottom of the screen as well. It takes concentration and memorization skills to do well, and the game definitely requires practice. If you run up against a tricky track and don't do a good job mimicking the song's pace and lyrics, the track will end early and you'll end up with a low score.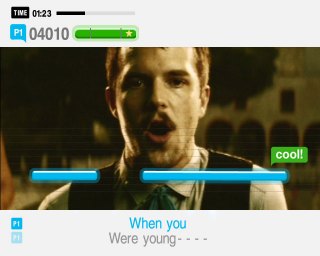 What's most surprising about this system is the accuracy of the results. The game does a good job of judging your singing, which helps you to see how your skills are progressing. You can choose to play either alone, or compete against another player head to head through a series of songs and tracks. In the competitions, you alternate tracks or can choose to switch during the tracks themselves, which makes things even more fun. It's fairly easy to play against a single song, but things become more challenging when Singstar throws medleys at you, which challenge you to change your pace on a dime. The game's approach is simple and effective enough that most players should have little trouble understanding what's going on, though some of the challenge stages might be a little confusing at first to the uninitiated. However, with a little bit of practice and timing, most players should be able to get the hang of things relatively quickly without putting too much effort into it.
One of the things that makes Singstar stand out from the sea of other music games is the ability to watch the actual music videos of the bands themselves as you sing along. Both games feature around 30 different tracks which are faithfully reproduced from the original recordings. Nostalgic players will probably enjoy Singstar 80s' selection of classic music videos from artists including Blondie, Madonna, Culture Club, Tears for Fears, The Pretenders, Tina Turner, Duran Duran, Flock of Seagulls, Run DMC, Men At Work, and REM. Many of these classic songs are almost guaranteed to bring a smile to your face if you remember the early days of music videos. Aside from the nostalgia rush, the videos themselves can be seen in their entirety or in short versions, which might not be such a bad thing after awhile. For gamers looking for a more current and contemporary edge, the harder rocking tracklist on Singstar Amped might be more appropriate. This package includes songs from Audioslave, Queens of the Stone Age, Pearl Jam, Radiohead, The Killers, Yeah Yeah Yeahs and Fall Out Boy along with some oldies from the Ramones, Yes, Talking Heads, Nirvana and David Bowie. It's a fairly good selection of harder rocking tracks, but just accessible enough that most songs should be recognizable to most music fans. Of the two discs we're looking at, we have to give Amped the edge in terms of variety and style, since the 80's edition seems to be very focused on popular music that's been played for many years. However, the track selection on both of these titles is superior in many ways to the rather bland selections on the first two Singstar games.
While these titles are obviously extensions of the existing franchise, they seem to offer more fun than the last two did, mostly because the tracklistings are superior and better focused. You can say that between them, there are more than 60 different songs, which is a decent selection of tracks. If you've already purchased the previous games, you'll find yourself right at home this time, and you won't have to purchase additional microphones if you already have them. While both titles share very similar graphics and menus, they bring completely different styles of music with them, so which you ultimately find more appealing is probably going to depend mostly on what kind of music you enjoy the most. Singstar Amped and 80's are both solidly enjoyable, party titles that should appeal to the more mainstream gaming audience, making them appealing choices that should please causal gamers.

- Michael Palisano

Grade: C