As the third installment of the long running series to appear on the PSP, players are right to expect some significant changes from the latest installment. They get their wish because while most of the previous SOCOM titles have largely focused on the domestic branch of the US Navy Seals, this installment broadens it appeal by allowing players to select from an array of international strike teams including Spanish, British, Australian, French and South Korean branches. Each team is somewhat similar in terms of game mechanics, but they're multi-lingual and allow you to play in their native languages. This is a really cool and innovative feature, and highlights the latest installment's push to become more accessible for a broader array of gamers. The game's set-up and controls have also been simplified a bit and the game's structure is definitely streamlined this time around. However, this doesn't mean the trademark intensity and depth of the series has been tossed out. In fact, this one places more emphasis on the planning and evaluation of each mission beforehand, which makes Tactical Strike a deeper experience overall.

Set in an array of hostile terrain including war-torn cities, dangerous jungles and desert valleys, the missions in SOCOM US NAVY SEALS: Tactical Strike offer much greater sense of variety and challenge than the previous games. This makes for a highly-replayable game that feels much more immersive in single-player mode than previous installments. Players will immediately notice that the developers have put a lot of work into the maps and layouts of the latest SOCOM iteration. There are more alleys, angled areas and a less predictable enemy, with a far less generic layout, making for a more realistic and authentic experience. This makes the missions feel less clinical than before and the added unpredictability of the enemy AI only highlights the increased danger players face. However, it isn't a case of shoot and ask questions later, since you have to go through several preliminary planning steps before you even reach the battlefield. Before each mission begins, you are given a quick overview of your objectives and can outfit your team's weapons and gear to your liking. Once you're on the battlefield, you'll find an intuitive but unobtrusive HUD that allows you to see your mission status. The game offers both single and multiplayer support and gives you the ability to play in either ad-hoc (against another nearby player) or infrastructure (anyone on the internet) modes. There are a number of online maps included that offer plenty of variety for those who want to battle it out against each other. There are several different online modes of play including co-operative and deathmatch modes. The increased variety of terrain from the Fireteam Bravo games makes the online games more exciting while increasing Tactical Strike's longevity.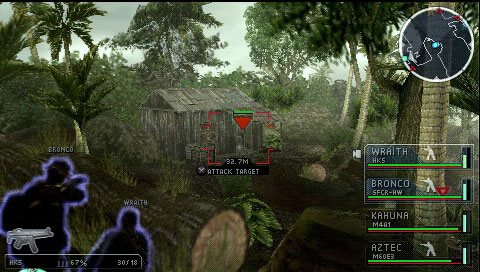 From a gameplay standpoint, this is a solid experience that offers remarkable depth for a portable title and works well within the existing framework set by previous games. SOCOM: Tactical Strike continues the successful military franchise on the PSP, though this installment differs from previous installments by offering a deeper command structure and a more robust single player experience that gives the game more depth. However, while the planning and execution stages are more complex, other aspects of the game are more accessible now. Players will find the command interface has been streamlined, which makes things more accessible while also allowing additional control options. As you play through the missions, one of the key aspects you have to consider is how to move your soldiers around the field. Since each checkpoint is clearly marked, you only need to look at the map and see where the opposing forces are. You can decide to run to your next checkpoint quickly, which makes you vulnerable to attack, or choose to go in quietly using the stealth command. When you encounter an enemy fighter, you have additional options, such as concentrating your fire on that enemy or using a field of fire command to clear out the immediate are.
SOCOM: Tactical Strike also allows you to use sniper fire, throw frag grenades and hide behind cover. While you can get through most missions without losing one of your soldiers if you plan ahead, sometimes one of your team will take fire. Here, you can revive them and bring them back to service easily. This is done by moving another soldier to them and waiting for their status bar to fill up. Most commands are fairly easy to perform and require only the press of a face button. Your team's AI is quite intelligent as well, and you can set them into a variety of modes including stealth, attack or defensive modes. Using the onscreen reticule allows you to set the next destination and see the configuration of your soldiers before they move. Using this in addition to the map can help you avoid placing your team in a potentially dangerous situation ahead of time. Players can choose to use either a single soldier at a time, split the command into two pairs or command the entire four-man team if they wish. It's this flexibility that make the game so engrossing and challenging, since most of your success depends on planning ahead and not making mistakes. This makes each step you take in every mission feel much more important and makes Tactical Strike feel less like a mindless shooter and more like an immersive strategy game.
From an aesthetic standpoint, SOCOM: Tactical Strike takes good advantage of the PSP with excellent environmental effects that make for an entirely realistic, believable experience. The game's varied terrain changes often enough that you won't get bored while the in-game storytelling makes for an involving plot that brings you right into the action. There are several cool special effects, such as night-vision and heat goggles that allow you to see through objects and locate hidden soldiers as well that add to the game's authenticity. SOCOM's audio commands allow you to get communications and mission updates while in the field and the game's musical score perfectly compliments the militaristic feel of the action. Overall, this is a highly polished and smooth looking game that features the standard production values gamers have come to expect from the series.Most of the elements that made the SOCOM series so successful are present in this installment, though the developers deserve credit for making some important changes. The game's approach has been redefined and now places a greater emphasis on the strategic elements of battle. This requires players to think ahead a bit, and makes for a more engaging experience overall. Conversely, the game's interface has been streamlined a bit from the previous titles and its easier to issue commands and change approaches on the fly, which makes the game flow smoother this time around. Missions and objectives are clearly laid out and while they can consume quite a bit of time, the level designs are mitigated by the frequent placement of checkpoints. The single-player game feels much deeper and more robust this time around, but the game's trademark online play remains as tightly-wound and intense as ever. Impressive visuals and more varied environments are the finishing touches which make SOCOM: Tactical Strike one of the best military shooters on the PSP to date, and another solid installment that should please fans of this long-running series.

- Michael Palisano

Grade: B