With hundreds of teams and players at your fingertips, FIFA 07 offers an impressive roster of players and teams. Its enhanced controls, expanded management mode, PS2 connectivity and, new mini-games presents players with many new options and modes. The new player controls allow more fluid movement and additional special moves, while the onscreen tactics menu makes it easy to adjust your strategy on the fly. FIFA 07's production values are excellent with smart commentary, cool music and top notch visuals make for an excellent presentation that creates an exciting experience. FIFA 07's new features and upgrades add even more depth and authenticity to the experience, making it the most comprehensive and realistic soccer title on the PSP to date.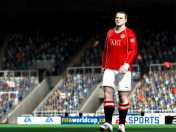 There have been many changes, improvements and upgrades since the last installment of FIFA hit the PSP about a year ago. Both on and off the field, the game has definitely undergone some significant revisions. Unlike the World Cup edition released earlier this year, FIFA 07 includea an incredible roster numbering in the hundreds. The options menu consists of licensed international, club and league teams represented along with thousands of real life players. Each team and player is accurately recreated which gives FIFA an incredible amount of realism. The biggest change this year comes in the form of its refined controls, which have been revamped to offer a better selection of moves. The ball control is the biggest area and now offers players better aiming through the use of improved accuracy. Chip Shots, passes and kicks are much easier to perform, making for a smoother, more fluid experience. Each match seems to flow a lot better, with fewer shots missing their mark. Attacking, Defending and Special moves are available in abundance and the game's intuitive design makes these moves easy to perform. Players can pass, juggle, tackle, and dribble the ball easily, and giving your player a quick speed boost is as easy as pressing down the shift key. Each player has a standard arsenal of moves they can use, but there are also several Superstars who have additional abilities which allow them to perform tricks and special moves to keep opponents off-guard.
The excellent tactical menu from last year's FIFA title has returned and this allows even more sophisticate play to emerge. Using this system, players can implement a variety of tactics and move the ball up the field to increase the pressure on their rivals. In addition to setting up your basic formation before each match, FIFA 07 allows players to change their strategy on the fly, using the PSP's d-pad to select from a number of offensive and defensive tactics. This makes changing your team's strategy a cinch, with an onscreen indicator used to tell you which you're using. FIFA 07 offers several basic tactics including three man release, wing play and box overload formations on defense. When you're in the attacking mode, you can use Pressing, Zonal and Offside Trap strategies to improve your chances in the goal mode. Learning the game's basic controls and menus is fairly simple, and most players should be able to get the hang of things by the end of their first match. FIFA's interface is quite good this time around, and the fully integrated tactical control means that the matches flow even better. The standard games are loads of fun to play, but the numerous extra modes and mini-games add even more depth to the experience.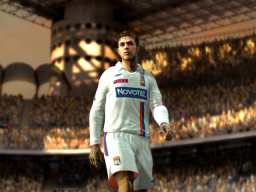 Last year's successful juggling mini-game was one of the more innovative things FIFA's done over the past few years, and its return here is a nice addition. Like last year's version, you once again need to turn your PSP on its side and get a full view of the action. Pressing the button in timed sequence allows you to perform knee-kicks and headers. Chaining multiple hits together allows you to earn extra points which can then be used in the FIFA store to purchase additional items such as alternate uniforms, stadiums, and more. The mode allows you to build up your players' skills by performing juggling moves, earning combos and more. Juggling's premise is remarkably simple, but its one of the more addicting modes in the game. A new multiplayer mode has also been added, which makes this even more entertaining. FIFA 07 also includes an all-new wall attack mode where you have to kick the ball towards a wall and knock off blocks in sequence. Missing shots or hitting the red squares makes you earn red cards, and five of these ends the game. As in juggling, winning scores in this mode allows you to earn points to use in the FIFA store.
In addition to these standard single player modes, FIFA 07 includes a some extensive multiplayer modes as well, which can be accessed using the PSP's wi-fi connection. You'd expect these standard modes, but the system can also trade data with the PS2 using the Link Cable as well. This probably isn't that important if you're just doing a standard game, but FIFA's new Manager mode makes trading all the more important. As you'd expect, the manager mode allows you to trade, purchase and train players, change your coach and other items, but it also goes beyond these standard features to include media management, team meetings and much more. This definitely adds a layer of depth and challenge to the game that allows players to go beyond the standard on-field action and get a behind the scenes look at what it's like to manage a professional team. The menus in this mode are easy to navigate and make going through each season relatively easy. To help speed things along, you can have the matches played automatically im this mode as well, and can also jump in and take control on the field to call the shots if things aren't going your way. You can also play with a club through a single season or several seasons until you reach the championship rounds and tournaments. These various extra modes compliment the main game and make FIFA 07 Soccer a comprehensive simulation of the sport that's both deep and accessible.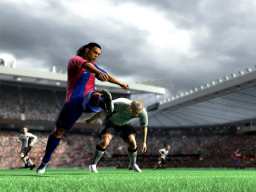 FIFA 07's presentation is excellent and the game offers solid visuals throughout. The players themselves are nicely rendered with excellent attention to detail. Each one looks and moves as their real world counterpart would, and has similar abilities and skill levels. You can also select from multiple camera angles and levels of zoom allow you to get a good look at the action while the menus and interface are very easy to navigate. An excellent music soundtrack helps to get you pumped before each match, and the stadiums come alive with the chanting and roars of the crowd as the on-field action begins. Players can choose to turn the in-game commentary on or off, and while it's fairly decent, we found it really distracting for some reason. The game also offers a number of other options which allow you to select the difficulty of each match, tilt the crowd's support to one side, change the strictness of referees and more. You can also change the aggressiveness of the AI when it comes to switching players and in some matches, choose to end the match if the score is tied at the end of regulation or settle things with either penalty kicks or extra time. Overall, FIFA 07 is nicely presented, offers plenty of options and features excellent control and challenging AI. EA has done an excellent job in this department as well, which gives the game enough flexibility and entertainment to appeal to both novice and mainstream gamers.

Grade: B+