2006 FIFA World Cup (PSP)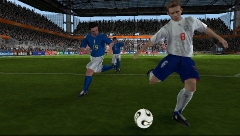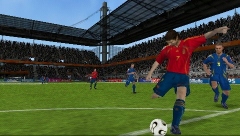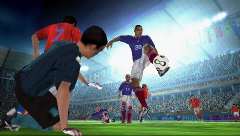 Taking players onto the field of the world's biggest sports tournament, EA's 2006 FIFA World Cup for the PSP brings the excitement and passion of soccer to life. The game features dozens of teams, hundreds of players, intuitive controls and numerous play options. While its accessibility is almost instant, the game also offers enough depth and challenge to give it plenty of replay value. The game's solid graphics and presentation makes this game a worthwhile addition to your library.
Every four years, the FIFA World Cup unites soccer fans around the world as nations compete for the coveted prize. EA's latest soccer title to hit the PSP offers a decent simulation of the tournament, with an array of options and modes that allow you to compete against many of the other nations in a variety of modes. The game includes more than 200 international teams, thousands of real life players and authentic venues, uniforms and balls. Officially licensed music tracks and sponsor banners are also included to give the gamer a true sense of the sport's drama and excitement. There are plenty of options and you can choose to play either a single friendly match against another nation or compete in the cup itself, with brackets and positioning that reflects the actual cup. Players can also play through a World Challenge mode, where they can unlock extra items such as teams and videos by completing stated objectives. These include not giving up goals, winning matches by certain scores or playing through a match without receiving a red or yellow card. The game also allows players to select a number of other parameters including match length, difficulty, rules and other options. Players can also select from a number of other options including camera angles, turn player selection on and off, and change the team's formation and strategy. You can also choose to indicate player names or use the on-screen radar to view the broader action. In addition to these options, the game allows also allows you to play either against the CPU opponent or against a friend using the PSP's wi-fi connection mode. The internet mode allows for either one on one matches for two players, or a four player mode as well. This is fairly easy to set up with an easy to navigate lobby system that's easy to understand.
Once you're on the field, you'll find FIFA World Cup's controls and feel are fairly accessible for newcomers, yet sophisticated enough for veterans. The game's first touch system makes it easy to control the direction, speed and velocity of each player. It makes passing, shooting and running with the ball a simple task. The game's play interface means that most options should be fairly easy to understand. While there's plenty of versatility, the commands are mapped effectively to the controller, making for an intuitive gameplay experience. The basic moves such as crosses, lobs and chip shots are simple enough to perform, while more advanced moves aren't overly difficult. Players can perform more sophisticated freestyle moves by using the analog controller, which helps to keep your opponents off-balance. You can change your team's defensive or offensive strategy on the fly using the PSP's digital controller, allowing four different tactics at the same time, which are indicated onscreen as well. These include counters, floods, wings and 3rd Man on attack, or pressing, trapping, flat back and, zone Defenses while defending your goal. You can also substitute players on the fly using the d-pad, including goalies, which lets you refresh your roster quickly without much effort. These basic maneuvers will only get you so far, in order to progress through the qualifying rounds and early brackets, you'll need to score.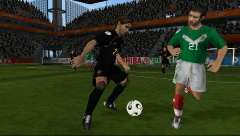 Obviously, the most important thing you need to do is connect with some goals, which isn't as easy as it sounds. As in real soccer, each point is hard fought and difficult to achieve. In order to shoot at the goal in FIFA World Cup, you'll first need to get to the point of creating set pieces, which is where you can take your striker and position them so they can reach the net with a shot. The game allows you to create a number of different approaches, and when you have things in line, you can take a direct free kick. This is done by using the analog stick to target the area of the net where you want the ball to go, then selecting the power and spin of your shot then releasing the shot and making the goal attempt. The keepers usually do an excellent job in deflecting your shots but with persistence and practice, you should be able to make a few hit the back of the net. The shooting system is a bit more complex and challenging than you'd expect, but it definitely gives you a greater sense of control than you'd expect it to. In addition to shooting, players will also have to learn other skills such as tackling and defending the ball in order to progress through the cup. The game's controls are well-designed and work well with the PSP hardware, giving it an intuitive feel that makes it accessible enough to not be intimidating to newcomers, yet offers the depth and versatility soccer fans have come to expect from EA's releases.
From a presentation point of view, the game showcases excellent production values throughout, with an excellent in-game commentary that compliments the onscreen action effectively. The game also includes a number of in-game music tracks, which can be annoying, but players can choose to turn these audio tracks on or off as well as select either English or Spanish language commentary. The graphics engine takes good advantage of the PSP's processing power, with excellent player animations, well-defined models that look and feel authentic. Each player looks and acts like their counterpart, and gives the game a realistic look throughout. The game's camera system is excellent as well, allowing for either far-away overhead action or close in viewpoints, which can be changed on the fly at the options menu. While it doesn't really break any new ground as far as its controls and interface, the game does a good job in capturing the excitement and passion of soccer with its elaborate cut scenes and cinemas. The game includes many extras as well such as short videos and other items that can be unlocked as you complete challenges. With all these features in place, the game isn't really lacking and delivers exactly what you'd expect. While it doesn't include all the club level teams of other soccer titles, the game does an excellent job in recreating the passion of the World Cup on the PSP with an intuitive interface and control system, challenging opponents and plenty of options. Overall, FIFA World Cup 2006 is a decent title that should please both casual and hardcore soccer fans alike.
> Related Reviews

Winning Eleven 9 (PSP)
World Tour Soccer (PSP)
FIFA 2006 (PS2)
MLB 06 - The Show (PSP)
Gretzky NHL 2006 (PSP)