Konami's popular soccer series arrives on the PSP in excellent form with the release of Winning Eleven 9. The game features the depth, realism and smooth controls players have come to expect from the series, with an array of thousands of players, clubs and options to keep you busy for some time. WE9's visuals are robust, with outstanding player animation, excellent ambient noise and effective camera angles. The addition of multiplayer online play, dozens of configurable options makes this the deepest, most thorough soccer title on the handheld to date.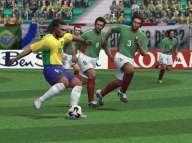 Making it to the top of the soccer heap isn't an easy task, particularly with so many competing titles on the market. Konami's Winning Eleven 9 on the PSP makes a strong case for itself with this iteration. The game has always had a sterling reputation among sports gamers, and this doesn't seem likely to change with this edition. The game features more than 130 club teams including new licensees Chelsea and Arsenal, 59 national teams, thousands of players and many other upgrades to the game engine, graphics and options menu. Konami has also enhanced the game's animation, added drama to its presentation, added many new formations while keeping the series' intuitive, yet comprehensive controls intact. In sum, Winning Eleven 9 is quite ambitious and offers gamers the most comprehensive soccer experience on a handheld to date. The game allows players to play in either a single match, play in a tournament cup, or compete against other teams in club leagues. You can also master your moves and tricks using the game's extensive training mode, which allows you to practice your moves, tactics and techniques without the pressure of an organized match. Winning Eleven 9's basic features lets you play against either a CPU opponent, or go against another player using the console's Wi-fi connectivity features to play online, which adds a new dimension to the gameplay.
These standard features offer what you'd expect them to, but the game goes a bit deeper than that in its large number of user-configurable options. While other soccer titles on the market generally seem to emphasize action and speed over complexity and authenticity, Konami's Winning Eleven series has always been one to bring players deeper into the game with an array of options and settings that allows them to maximize their control over their team. The PSP edition doesn't compromise in this approach and offers players plenty of options and settings. You can change each player's position, edit their attributes, change their attack formations, and make changes to the team's general strategy to a great level of detail and realism. Since each player on your roster reflects their real world counterparts, you can see detailed statistics for them as well in a number of areas including attacking, defense, tackling, speed, agility and other aspects. You can also create players to use in the game, trade players between teams and make changes to your roster to account for injuries. Players can also edit their formations, to change their team's tactics, and create a number of different scenarios. In addition to these options, WE9 lets players set up a number of match conditions as well, with length, time of day, penalty kicks, aggression, level of difficulty, and more. This gives you plenty of flexibility and while the complexity might be a bit off-putting for soccer newbies, the extensive list of options is quite impressive and helps lend the game a high degree of authenticity.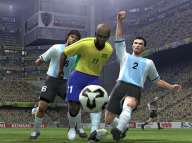 This depth and nuance extends to Winning Eleven 9's on field gameplay as well. Players will find an extensive array of both defensive and offensive controls to use once they hit the pitch. The game is fast paced, with momentum swings that occur quickly, keeping your excitement level high and accurately reflecting the pace of real professional soccer matches. When your team is on the attack, you can use a variety of tactics to control the ball. Passing can be done either automatically or manually, and players will find that the game offers a remarkable degree of versatility on this end. Players can run at their normal pace, or can sprint by pressing down the right shift button. You can select from a number of different passing methods, including cross passes, one-two passes and through passes to move the ball forward.
In addition you can keep your opponents off guard by trapping the ball or changing direction, switching players and more. While your players can move the ball upfield quickly by kicking the ball to the other half, this doesn't always result in a goal. You'll also need to have skill shooting the ball into the net, which can be achieved only by practicing your aim, and firing your shot at the goalkeeper. When your players are on defense, you'll find that there are a number of strategies at your disposal as well, including dribbling the ball away from an opponent, tackling them or building up a solid wall to impede them from scoring. In addition to these standard methods of attack, players will also be able to use a number of set pieces, such as corner kicks, throw ins and penalties to change the pace of the game and put themselves in position to score a goal. Winning Eleven 9 does an excellent job in recreating the fast-paced strategy of real-world soccer, with its pacing and nuance showcasing an excellent level of realism while offering plenty of challenge. This is especially true at the later levels, where opponents play with much less predictability. The game's controls offer plenty of depth and nuance, and the number of tactics and tricks up your sleeve is quite extensive, allowing players to put their own style of play into each match.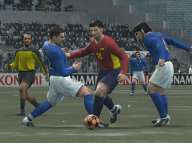 Of course, you don't need to delve into all of these tactics in order to enjoy WE9, the game works on a strictly action-based sports title as well. A fast-paced game in certain stripped-down modes, the game offers more than enough excitement that it should please even non-soccer fans. While the controls offer a lot of complexity, they are relatively easy to learn, and the game's shooting and passing system is well implemented. From an aesthetic standpoint, Winning Eleven 9 takes good advantage of the PSP's processing power, and offers an excellent presentation throughout. The game's graphics and visuals are quite impressive, with detailed, life-like character models used for the players.. During the match, you can select from one of three side-view cameras, which allows you to zoom in on the action, or take in the game from afar. The console quality graphics are impressive, but the trade-off is somewhat long loading times between matches, which can be annoying. Winning Eleven 9's complexity and depth may be a bit intimidating for soccer novices, but its depth, solid gameplay mechanics and fantastic array of options make it a must-own for any soccer fan.

Grade: B+