We reviewed the PS3 edition of this soccer game from Konami a few months back but, the handheld edition on PSP is a solid game in its own right and deserves a look. PES 2010 mirrors the feature set and licenses of the console release and players who are looking for a solid soccer experience will find a fairly good simulation here. It still doesn't have the number of licensed teams and leagues as FIFA, but there are a few and the customization modes allow you to create your own similar teams if you want. PES has all the modes you've come to expect from the series, and that means you can play a number of different ways. Players can choose to play against the computer AI for solo matches, or can also use the PSP's ad-hoc mode to play against friends locally. Additional options allow you to select the level of difficulty for each match, aggression of opponents and how strict the referees will be when it comes time for penalties. Of course, you'll find standard match and practice modes where you can play a single match against an opponent. If you want to go a bit deeper into the action, the game offers the ability to play in season mode with a single team's campaign through multiple matches. New to this edition is the UEFA mode that allows you to play through a season in the European championship league with the actual teams and players available to play. This is a solid addition to the game since PES' one drawback over the years has been its lack of licenses, and this added authenticity gives the game more depth.

Surprisingly for a portable release, PES 2010 also includes the series' trademark Master League mode where you can manage a team through a season in the back rooms with trades, transfers and other management options available between games. The most impressive aspect in PES is its Become a Legend mode where you can create your own custom player and play them as they work their way up through the league in career mode. In this mode, the matches play differently than normal rounds, since you are only in control of that player during the match. Your objective is to stay on your position, which include mid-fielders and strikers and try and perform to your best, helping the team along the way. You begin Legend mode at the bottom of the league and as your character competes in matches, they'll be judged on performance, which can then lead to offers or transfers to other, more high profile clubs. Your ultimate goal is to work your way up the league and play for the premier teams and win them a championship along the way. All of these modes combine to give PES 2010 plenty of depth and extensive replay value, which is an excellent feature for a handheld title.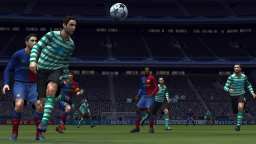 PES 2010's gameplay has all the features you've come to expect and allows you to set the level of difficulty, arrange team formations and use the simple controls to create and play set-pieces. PES 2010's on screen controls are fairly straightforward in this department, and playing the game is fairly easy. Picking your formations plays a key role in how the matches play out and you can choose either an aggressive forward stance if you face a weaker opponent or a more defensive approach if you want to keep talented opponents out of shot range. This year's edition has been refined in a number of key areas and the gameplay flows nicely in terms of control. It feels very solid with on-field controls providing excellent passing, dribbling and, shooting mechanics. It lacks the 360 degree movement featured on the console versions, but PES 2010 on the PSP still delivers some fairly good physics models. As usual, it feels very natural on the field and while this might not seem like a big deal, the controls help each match flow and move nicely throughout. PES 2010's player movement is controlled using the analog nub and players are fairly responsive to your commands. Running is fairly simple and you can make your player sprint by pressing the shift button. Opponent AI is fairly good and the other side is quite aggressive in blocking your progress and trying to win possession from your side. You can perform tackles, shift direct and counter their moves fairly easily and the game's mechanics are fairly consistent throughout. This makes for an accessible yet deep title on the pitch that gives you an excellent sense of how each match will go. During the game, you can choose different tactics for your team and can change these on the fly depending on how the match is progressing. Commanding your team is a fairly simple task throughout and most players should get the hang of the basics easily. This makes the game easy to play in either short bursts, if you want a quick run around the field. Players looking for longer sessions will find plenty of depth and versatility in its controls as well, which gives the game plenty of replay value.
From a presentation standpoint, PES 2010 offers a fairly decent looking soccer title, though it doesn't have quite as much polish as the other versions. The on field action animates smoothly and moves at a good frame rate throughout. The basic mode only offers a side view perspective on the action, which is disappointing though expected. Playing in the Legend mode allows you to take things to field level and play as a single player, and this perspective gives you a much closer viewpoint on the action. There are some good victory animations and close-ups when you score a goal, and the commentary is fairly decent as well. Overall, it's a fairly good looking game by PSP standards, but it probably won't blow anyone away. In the end, PES 2010 on the PSP delivers exactly the qualities you've come to expect from the series - solid play mechanics, plenty of depth and fairly good visuals. Soccer fans who want some portable action will find this to be a decent title that offers a solid gameplay experience.

- Michael Palisano