By Michael Palisano
Bizarre Creations' Xbox 360 launch title, Project Gotham Racing 3 continues the series excellent traditions with an incredible new level of realism and detail that pushes the boundaries of what a console game can offer. The first thing you'll notice are the visuals, which offer a depth of realism that extends to every area of the trackside objects, creating some of the most impressive racing environments to date. The unique Kudos system returns, giving players the chance to earn rewards while improving their driving skills. Its solo games are intense, but PGR 3 impresses most with its lively Gotham TV online service, which makes the game feel very much alive. It's impressively polished and accomplished throughout, so read our review and find out why PGR 3 is an essential purchase for any Xbox 360 owner.
There's little doubt that the first two Project Gotham Racing titles were some of the high points for the original Xbox, ranging from its launch four years ago. The developers infused the first two titles with a solid reputation for realism and depth that made them some of the most highly regarded titles on the console. Now, developers Bizarre Creations have unleashed the third installment for the launch of Xbox 360, and the game delivers much more than you'd expect, with an incredible sense of style that makes it one of the best racing titles to date. PGR 3 includes several different racing locales including Tokyo, London, New York, Las Vegas and the famous Nurburgring course from Germany. Within each of these courses, players can race a variety of routes with varying levels of difficulty, some of which also include unlockable tracks. The courses range from standard, largely straight courses with a few graduated curves, to denser tracks with contain many tight turns and angles. The courses can be raced in a variety of weather conditions ranging from clear to rainy and snowy, in addition to various times of day. Players can select from more than 80 different vehicles from a range of manufacturers including Lamborghini, Porsche, Aston Martin and more. Unlike other racing titles on the market, all the vehicles in PGR3 are super cars, so you won't be stuck playing endless license missions with an old clunker. The intiail selection is quite impressive, but you can earn additional vehicles by winning races and Kudos.
During each race, your objective is straightforward - reach the finish line before your opponent. The real trick comes in outsmarting your opponents, who are a bit smarter and more aggressive than typical racing foes. You need to learn the lines of each track, and discover the best places to accelerate and brake. The tracks themselves, despite the limited number, offer plenty of variety, even within each course, giving the game plenty of variety. The game's momentum builds quickly after the easy courses, which subsequent levels offering a greater level of intensity. Finding your sweet spots on each course is essential to victory once you reach these areas, with a few tenths often making the difference between first and third place. These points aren't always obvious, but cleanly making a corner or sliding out of a turn earns you Kudos, which are awarded when you perform a smooth move. These are awarded for a variety of tasks such as earning air time, driving on two wheels, passing an opponent, driving a section of the track without hitting the railings, setting a record, and more. Additional Kudos can also be earned by chaining moves together and winning races. This system has been carried over from the previous PGR titles, and allows you to refine your driving strategy while you're racing, giving you a strong impetus to keep playing. Once you've earned Kudos, you can use them to purchase additional vehicles or to upgrade your existing garage. You can earn Kudos in both online and solo games, in either competitive or single-player modes, making it easy to build up a large number of these, making them an effective scoring system when you're comparing yourself against other players.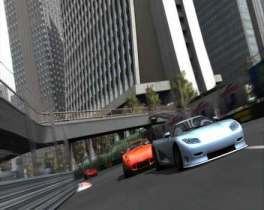 The single player game is quite enjoyable and entertaining in its own right, but where PGR 3 really sets out new standards is in its online mode. Called Gotham TV, this innovative online only feature allows players a greater amount of depth and immersion than previous games. Players can choose to watch other races, compete against other racers in live events and then post their best lap times on leader boards for other racers to see. This is all accomplished seamlessly, with enhanced community features such as voice chat and other areas which allow you to create your own racing leagues, trade parts, download race ghost images, and even earn a few kudos along the way. The system is breathtakingly simple to use, and works perfectly with Xbox Live, allowing you to jump right in to the action. This visionary feature allows PGR 3 to feel more like a living, breathing racing tournament than before, with a number of exciting features that point the way towards the service's future. As it stands, the PGR 3 online experience is probably the best for any console racer to date, setting standards few other titles have even attempted to date.
While there are a few areas, such as a smaller number of courses and cars, where the series seems to have taken a step backwards, PGR 3 also moves the feel and structure of previous games forward in several substantial areas. The first thing you'll notice is the controls, which are much more nuanced and responsive than previous games. This makes performing moves such as power slides and turns much easier this time around, the added fidelity to realism is also evident in the cars' handling, which benefits from the increased focus on fewer vehicles. The car physics are slightly more realistic as well, especially when your vehicle takes damage, lessening its responsiveness and handling. PGR 3's surface dynamics are also impressive with vehicles performance affected by the different types of road, though these differences are subtle at first. Each car in PGR 3 has a unique feel as well, so you'll need to compensate for this as well. While these changes might seem minor in isolation, taken together, they create a much more realistic feel that gives the player an incredibly realistic sensation of driving in an intense environment. This is only enhanced by the superb audio tracks, which range from techno, rock, hip-hop and even classical tracks, which means there should be something for everyone in the game.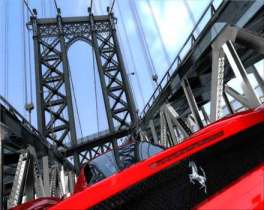 Obviously, with the release of a brand new console, expectations are high when it comes to any launch game's graphics. From this standpoint, PGR 3 represents quite a leap forward since it visuals are quite impressive. There are definitely effects and nuances that couldn't have been done on previous consoles and the visuals definitely live up to the hype, fully taking advantage of the Xbox 360's more advanced processors. The level of detail is astonishing, you can see dust and dirt reflected on the windshield, with scratches appearing on the glass, reflecting in the sun light to create a dazzling effect. One of the key differences between this installment and the earlier games is the use of the in-game camera to give players an incredible sense of awareness. The view is somewhat limited, but this perspective is perhaps the most realistic seen in a console racer to date. When you switch to an exterior viewpoint, you can see the reflections in the vehicles' body point, with incredible light sourcing used to create some dynamic environments. For example, the transition from a tunnel to the outdoors is more realistic, as the lighting quickly goes from very dark to a momentary blindness before the camera adjusts to the light. It's a subtle trick, but it definitely adds to the realism. The incredible sense of detail extends to PGR 3's track sides as well, with incredibly realistic renderings of city blocks and landmarks that are nearly photo realistic throughout. PGR 3's frame-rate is also astonishing, with an incredible sense of speed and objects appearing with no draw-in or pop-up evident, making you feel like you're racing in an actual environment, not a pre-rendered series of backdrops.
PGR 3's leap in visual quality represents an evolutionary step into the next generation, but graphics alone don't tell the entire story. The most innovative aspect of PGR 3 is the game's new Xbox Live mode is also quite impressive, with the new Gotham TV allowing players to experience the action with live battles, instant replays and the ability to watch from the stands. You can definitely see the outlines of the future in these advanced features, which give the experience an almost broadcast quality. Underneath these flashy features, you'll find a solidly entertaining and challenging racing title that offers plenty of visceral thrills, with intense battles occurring with some of the most exotic vehicles around. The title's high quality is evident in all aspects ranging from the smooth intuitive controls, fantastic selection of camera angles and tight, responsive driving action. Project Gotham Racing 3 is probably the most-polished and accomplished of the Xbox 360's launch lineup, with an array of sophisticated features that make it a solid purchase for any owner of the new console.