Players looking for some highly entertaining Karoake action will find a lot to like in Singstar Vol. 2 for the Playstation 3. Following the successful formula of previous titles, the newest installment includes a pair of microphones that players can use to match the pitch and notes on many of their favorite songs. These microphones are fairly easy to set up and use. They connect to the USB ports via a hub and are backward compatible with the PS2 games as well, which is cool. One awkward thing is having to switch to a standard controller to navigate through the menus, which is slightly annoying. Players can also connect their EyeToy cameras via the USB port which allows them to view and playback their own performances, which is another cool social gaming feature. Singstar doesn't take too much effort to get the hang of, you basically match the notes and use the onscreen tone guides to see how well you're matching the pitch of the song. The closer you come to recreating the singers' notes, the higher your score and your position. It takes a little bit of practice, but it really isn't as hard as it sounds and once you get the hang of it, you'll find yourself freestyling in your own style, and having loads of fun before you know it.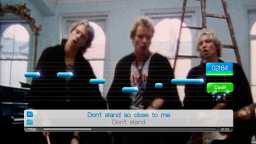 Singstar Vol. 2's structure and layout is simple which makes it instantly accessible. As in previous games, there are competitive modes where you can sing head to head, and a cool medley mode that shuffles through tracks randomly, which adds to the challenge. It's not the most difficult game to play, and you won't even need to master an instrument, just sing. Singstar's presentation is likewise easy and its selection of songs is above average. Where this music title sets itself apart from other rock games comes in its inclusion of actual songs and music videos. This approach of using the real artists adds to its authenticity and allows you to instantly connect with the tacks. It's actually fairly simple in approach and doesn't diverge much from the previous games, though the video quality is much higher and the menus are a little slicker than the PS2 editions. The PS3 Singstar includes several modes of play including solo practice modes, competitive play, duets and more. An impressive selection of songs spans a wide variety of eras and styles with classic tracks from Elton John, Aerosmith, The Police, The Cure alongside more contemporary artists like Panic at the Disco, The Killers, Gnarls Barkley and Goldfrapp to name just a few. Most of these tracks should be familiar and their inclusion makes the game less intimidating and more accessible for casual players. There are 30 tracks included on the disc, but that's just the beginning, as this installment allows players to go online and download additional tracks. As of this writing, there are more than 300 available in the Singstore. They're reasonably priced and work well within the existing game. In addition, the online community features allow you to play against other singers worldwide, and there are rankings and leader boards, which adds to the fun. The Playstation 3 edition follows the successful mold and is another highly enjoyable installment that should please singers. Add in the online community features and piles of downloadable tracks which give plenty of replay value to an already fun title and you have a great party game that should appeal to wanna-be singers of all ages.
It's a fairly solid edition for the PS3, but SCEA has just released two other expansions for PS2 owners. The first of these is aimed at the oldies set and is called Singstar Legends. With 30 classic tracks from the likes of the Rolling Stones, Elton John, Nirvana, Joy Division, David Bowie and going back further, Marvin Gaye, Elvis Presley, John Lennon, Ray Charles, Sam Cooke and Madonna, there's something for the older set in here as well. It has a very similar setup to the other Singstar games and most players will have a lot of fun going back in time with this winning set of old songs. There are also a few cheesy-but-fun tracks like Bonnie Tyler's Total Eclipse of the Heart, and The Monkees' Daydream Believer thrown in here as well, which makes this another fun party game that adds some fun stuff to the Singstar library. It includes most of the usual single player and competitive modes, though its also fun to sit back and watch some of the videos as well. Another fun idea is to change to words to some of the songs, which you can do to add a lot of mirth to some of these vastly over-played songs. Overall, Singstar Legends lives up to its names with many well-known artists and their most famous tracks represented throughout the package. For those players who want a bit more of a focused experience, the next Singstar title offers an entertaining genre experience.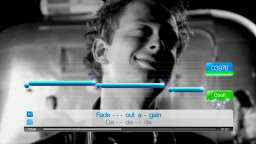 While the previous entries had a broad selection of tunes to choose from, Singstar: Country focuses on a single genre. It adds a twang to the long running series with an impressive selection of artists and genres that should appeal to the Nashville set. This package includes a variety of tracks from well-known artists such as Alan Jackson, Brooks & Dunn, Taylor Swift, Keith Urban, Kenny Chesney, Martha McBride and more. There are also a number of classic tracks from the likes of the legendary Johnny Cash and Willie Nelson, along with some emerging artists as well. The tracks range from the usual country fare with a good variety of moods and styles represented from ballads to rockers and traditional songs. Most of the songs are easy to learn and understand, and Country offers most of the same single-player, co-op and competitive modes players have come to expect from the series. It's easy to play through the tracks, and their level of difficulty isn't as hard as you might expect. All of this is tied together with an instantly accessible interface that makes playing through very easy. Like the other Singstar titles, players can choose to play either a standard or short length track, play through multiple tracks in medley mode and compete against others as well. This is a fairly decent package for country fans, and its focus means it should appeal most to those who like the genre, though it's fun and instantly accessible approach means Singstar: Country's gameplay will make for a great party game regardless. This is another solid entry in the series that proves the formula works well with a variety of music styles.

The grand finale in this season's releases has to be Singstar: ABBA, a great collection focused on the Swedish supergroup. This is the first Singstar title devoted to a single artist and it's a great choice given their universal appeal and enduring popularity with fans of all ages. The game allows players to go through an extensive selection of the band's songs including well-known favorites like 'Dancing Queen', 'Mama Mia', 'The Winner Takes it All' and 'Take a Chance on Me.' ABBA fans will also find lesser known tracks like The Day Before you came', 'Fernando', 'The Day Before you Came' and 'Voulez-Vouz.' This gives a good overview of the band's career and style. There are 30 classic tracks in all, spanning the groups entire career. Like the other Singstar releases, the game allows you to play either solo or with another player. Performing duets allows players to recreate those essential harmonies that made their music so memorable. Singstar Abba includes all of the usual solo, single player and competitive modes you've seen in other Singstar titles. It's an almost instantly accessible and enjoyable title and most players should have little trouble getting in on the fun and singing along. You can also use the EyeToy camera to view and save your great performances if you want to, which allows you to immortalize your fun karaoke nights. Singstar ABBA is available for both the PS2 and Playstation 3 and the differences between these releases reflect the consoles, though both games have identical track listings, the PS3 edition allows players access to the Singstar online store where they can purchase additional songs. Obviously, the PS3 edition's HD video is superior and its interface is a smoother, but either release will make a great addition to your Singstar library.

Overall, these Singstar titles consistently deliver an entertaining accessible music game experience that should appeal to casual gamers looking for a non-threatening and entertaining party game.

- Michael Palisano