Preview: S.L.A.I. - Steel Lancer Armored International (PS2)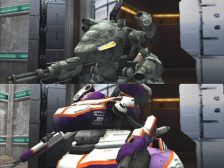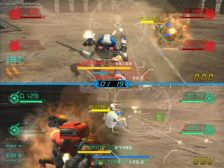 Konami is set to enter the mech fighting arena once again with the release of S.L.A.I. on the PS2. This is going to be a fast-paced arcade-style fighting game with a surprising amount of depth. The game will feature extensive customization options including numerous mech parts, with more than a million unique combinations in all. S.L.A.I. will also feature online battles for up to six players along with several solo gameplay modes including a deep story mode. The visuals are also looking impressive, with great mech designs and impressive environments creating a believably futuristic battle arena. Read our preview and find out why S.L.A.I. looks like one of the fall's most-promising mech titles.
While mech games have become increasingly popular over the past several years with hardcore players, especially anime fans, many of these releases have become increasingly complicated with esoteric controls and missions while demanding an RPG-style level of commitment on the part of gamers. This trend may have pleased the hardcore genre players, but has left many novices and newcomers alike intimidated by the genre's conventions. A few titles such as Capcom's Steel Battalion on the Xbox have brought the trend to absurd heights, with its incredibly complex and expensive controller causing a steep barrier to entry. Luckily, a few titles on the horizon look to go against these trends. One of these is Konami's latest, S.L.A.I.: Steel Lancer Arena International. This upcoming title looks set to bring the genre back to basics with arcade style play, accessible controls, and multiplayer support giving it a broader appeal. This should give S.L.A.I. a visceral and immediate appeal amongst casual players, but the game's extensive customization options, strategic elements, and expansive fighting arenas will give it the depth hardcore mech fans are looking for. An interesting back-story effectively sets up the action nicely without becoming overly complex. The game is set in the year 2071, when a robotic fighting league has become the most popular sport in the universe. In the game, you pilot one of these mechs as you battle against other players (AI and human) to become the best in the league. The game's basic mechanics seem straightforward on the surface, but S.L.A.I. will include unique aspects and features that should make it stand out from the pack of mech titles on the market.
Keeping the game's accessibility for casual players in mind, S.L.A.I.'s simple controls should be easy to learn and the game will include a quick battle mode, which allows you to jump right into the action. For players looking for something a bit deeper, the game's single player story missions should offer plenty of challenge. In the story mode, the action is intense as players battle opponents in a variety of locations throughout the world. This looks to be quite a deeply satisfying experience that will offer more than 50 hours of gameplay. S.L.A.I.'s immersive solo campaign should deliver a challenging game with plenty of foes to battle. This will also make the story mode an excellent place to learn the basic techniques and tactics that you can use later when you fight other players online. Some of the cities in the game will include futuristic versions of New York, Tokyo, Cairo, Hong Kong, and London with each metropolis offering a unique set of maps and challenges. After successfully completing each battle, players will earn money that they can use to customize their mechs. The game will offer a massive selection of body parts to choose from giving players a seemingly unlimited array of options. There will be so many parts available, that Konami is promising more than a million possible combinations for each mech. Players can use a number of weapons including standard weapons and more advanced arsenals such as machine guns and missile launchers. The impressive arsenal of mechs will also be able to utilize 'stealth' moves, which is an optical camouflage that makes them almost invisible to their opponents, allowing them to attack virtually unseen. The game will also let players create their own custom soundtrack with more than 90 different music tracks available.
From a visual standpoint, the visuals look quite impressive at this early stage, creating futuristic battlefields that are both believable and interesting. The screen filling mechs are richly detailed and move around the screen smoothly and effectively. The game also lets you choose from first and third person perspectives with a smartly designed HUD that fits the mood and feel of the game perfectly. It doesn't get in the way of the action, making it unobtrusive while making it easy to figure out your location, the enemy points, and your status at a glance. As detailed earlier, S.L.A.I.'s presentation is excellent with detailed polygonal models, richly detailed urban environments, and great lighting effects giving the game a smooth, polished appearance throughout. From an aesthetic standpoint, the game looks to please veterans with its traditional mech designs that don't stray too far from the conventional designs. Aside from its visual splendor, S.L.A.I.'s online modes are also set to impress. The extensive multiplayer action is impressive, with both split-screen and online modes supported. In split screen modes, you can battle an AI opponent or a friend for two-player action. What's most impressive about the game is that the customization features have been fully integrated into the online modes. The extensive customization means that you should be able to find a variety of mechs to battle online, which should keep things interesting throughout. Players can use either previously built default mechs in these battles, or use their own creations and import them into the game to battle other players in Versus mode. During the online arena battles, up to four players can compete at the same time, with up to six in all. As one player is defeated, other players on standby can jump into the action, making for some impressively frenetic melees with an unrelenting pace. These arena battles should be quite impressive, especially since mech arena battles haven't been seen on the PS2 yet. Overall, it looks like Konami is set to deliver the solid online multiplayer experience mech fans have been yearning for, and hopefully the game's final implementation will live up to its promising specs.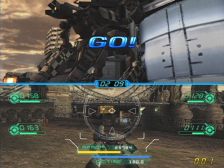 With this release, Konami is attempting to bridge the gap between the hardcore and casual gaming crowds. This interesting mixture of accessible controls offers an immediate appeal. However, the deeper customization and strategic elements means there's to please those who want substance in addition to flashy special effects and explosions. A solid multiplayer mode offers plenty of excitement with intense arena based battles while the player created mechs should also make for plenty of variety. A solid visual appearance is highlighted by interesting mech designs, large city based environments and smooth controls making for a fast moving and aesthetically appealing title. S.L.A.I. looks to be a solid entry in the genre, offering the key elements hardcore players are looking for from these types of games while keeping the controls and action straightforward in order to keep newbies in the loop. Effectively balancing these opposing forces isn't always an easy task, but it looks like S.L.A.I. will be up to the challenge.
S.L.A.I. - Steel Lancer Armored International
Publisher: Konami
Developer: Konami
Platform: PlayStation 2
Genre: Mech/Fighting
Release: Fall, 2005
> Related Articles

Preview: LA Rush (Multi)
Preview: Gauntlet: Seven Sorrows (Multi)
Preview: 25 to Life (Multi)
Preview: Makai Kingdom (PS2)
Preview: One Piece Grand Battle (Multi)