This exceptional release marks the latest installment in Sony's long-running futuristic racing series. It once again shows that, despite being more than a decade old, the Wipeout franchise still defines the standard for futuristic racing in terms of style, design and gameplay mechanics. With Wipeout Pulse as the second version for the PSP following the much-lauded Pulse from the launch window, you'd expect some significant improvements. These are plentiful and include several significant gameplay enhancements that redefine the experience without losing its essential appeal. The most impressive of these are called Mag-Strips which lock the player's ship onto the course and allow players to race through massive 90-degree vertical drops and massive circular loops without dropping off the course. These are quite effective and bring an exciting new dimension to the game's already intense racing battles. Your ship's handling changes slightly when you go over these areas, but you still have a great deal of control thanks to the game's intuitive controls. Playing with either the analog or digital pad gives your ship plenty of maneuverability, though we found the analog offered a generally superior feel, though which style you prefer will largely depend on your personal preference. While these changes are impressive, the basic gameplay mechanics and feel of the game haven't changed that much. The game still requires split second reflexes and features a number of cool weapons such as the trademark quake, autopilot, missile and bomb pick-ups on each track.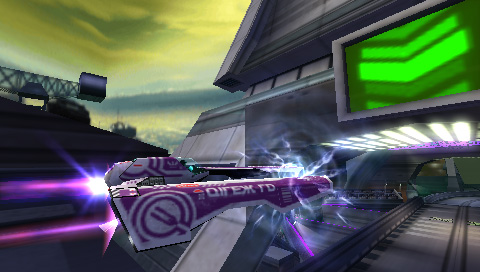 While these changes seem superficial, the developers have also gone under the hood and tweaked the game's difficulty. These changes are subtle, but you'll notice them immediately. The courses are quite challenging this time around and seem a bit trickier than they did in Pure, with sharper turns. Your opponents also seem to be more aggressive this time around, making for some fierce battles. The controls feel very much the same as in previous games and most Wipeout veterans should be able to get the hang of its look in no time, with all the features, including the famous air-brakes and techniques you've come to expect. The pacing racing and your ship's performance depends on which ship you decide to use. As in the previous Wipeout games, players can select from a number of racing teams, such as the classic Quirex, AG-Systems, Feisar, Auricom, Piranha and new addition, EG Systems. This time around, each time you win a race with one of these teams, you'll earn loyalty points which can translate into ship appearance and enhancements and even unlock new vehicles if you earn enough points. This system is really well designed and creates a deeper, more coherent gaming experience than some of the previous games provided. However, it's still very much a Wipeout game, so the emphasis on speed and vehicle combat remains at the forefront.
Wipeout Pulse's biggest under-the-hood changes involve its progression and reward system. The game's structure has been changed dramatically this time around with the inclusion of a new grid system. This comes into play during Campaign mode, where you can navigate through the grid and unlock hexagonal cells. Each cell contains individual events which that have to be won with medals in order to unlock adjoining cells and races. The grids themselves are divided into different stages that can be unlocked by reaching a certain number of points per race. This structure gives Wipeout Pulse more than 40 unique events in all that can be unlocked as you progress through the grids. What's even more impressive about this approach comes into play when you enter the game's new Race Box mode. Here, you can create your own racing grid tournaments and unique events and race courses that have been unlocked in the main mode. You can select which course you want to play, the mode of play such as Zone, Solo Race or Time trial mode, the number of opponents and whether weapons will be used. The single player modes are impressive and there are also several online modes that support both infrastructure and ad-hoc modes with support for up to four players simultaneously. The developers have also opened the door to additional online community features with player-ranking and online tournament modes. You'll also be able to download additional skins, ships and tracks plus Players can also create their own grids and upload them online to share with other players. This extensive online support adds even more value to the game, using the PSP's abilities effectively to its advantage.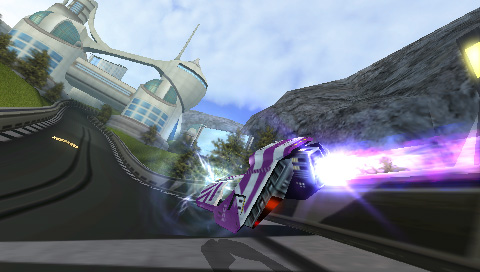 This user customability is already impressive but this approach also extends into your ship itself where you can create and use your own skins for a unique vehicle appearance. You can also download and share skins online and use the new Photo mode at the end of each race to create snapshots of the most exciting moments. As the new structure illustrates, Pulse has been designed to make an even deeper experience. In addition to these new features, there are also some impressive new single player modes that add more variety to the gameplay. This includes the Elimination mode, where the laggard racer on each lap loses automatically, lending higher stakes to each lap. You can also compete in a head- to-head mode where you battle against another player. Wipeout Pulse also includes the expected single race, tournament, time trail and Speed Lap modes which can be mixed and matched. Pure's most ingenious mode, the Zone mode where you battle an increasingly fast series of speed boosts until your ship is destroyed also makes a return appearance. This multitude of modes makes for a much deeper and more involving experience. The new structure is also well-suited to portable play, since you can race a few courses and progress quickly without burning up too much of the PSP's battery life.
Given the forward-looking aesthetic standard set by the previous games, Wipeout Pulse has a lot to live up to. It brings up the graphics engine seen in Pure a few notches and features incredibly detailed environments and tracks. The game doesn't stray far from the look and feel of previous titles, with the beautiful, Designer's Republic-inspired landscapes and design very much in evidence this time around. Pulse moves at a smooth and consistent frame-rate throughout and doesn't skip on the level of detail, making for an intense experience that comes at players relentlessly. The coherent and stylish design remains impressive and extends to the cool opening sequence to the menus and interface, all of which combine to create one of the best-looking PSP games to date. As you might expect, the game's thundering techno soundtrack features some of the top electronic music artists, such as Aphex Twin, Ed Rush and Optical along with newcomers Mist, Noisia, Loco Dice and, 8-Phreak to create an excellent musical accompaniment that enhances the action perfectly. There seems to be more DnB this time around, but these harder tracks fit with the game's edgier difficulty to give it a more urban feel.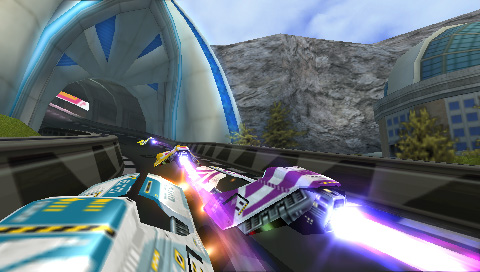 There aren't that many racing series that have defined their genre the way Wipeout has over the past decade, but then again, few have consistently delivered the same mix of adrenaline-fueled gameplay and stylish visuals that have become its trademark. Wipeout Pulse offers a prime example of this approach. Several new gameplay elements have been implemented, such as mag-strips and the new grid system offers more depth. Player customization has also been enhanced, with customizable tournaments, editable ship skins and a clever Race Box mode offering the ability to create your own racing experience. The game's controls and feel are familiar yet these tweaks and changes add some fresh elements that give players a greater degree of freedom to interact with the game. With almost nothing to fault, Wipeout Pulse delivers an invigorating racing experience that once again defines the standards of exciting gameplay, artistic coherence and online technology on the PSP.

- Michael Palisano

Grade: B+