One of the latest RTS titles on the market, Activision's Empires: Dawn of the Modern World from Stainless Steel Studios, allows players to take on the role of a blossoming historical empire, starting from medieval times and pushing through to the modern era. Though its similar to the wildly popular Rise of Nations in some respects, Empires just didn't have the same enthralling magic that kept us glued to PC for hours on end. If you can actually figure out how to play the game right, Empires might be able to provide gamers with a decent RTS experience. However, casual gamers may want to look elsewhere.
With surprisingly little fanfare for a Christmas Holiday release, Empires: Dawn of the Modern World hit the shelves of gaming boutiques everywhere just in time to satiate the lust of the RTS gamer. From the look of the pre-release information and specs, this title seemed to contain many of the same qualities found within Rise of Nations, including progressive army and tech development, multiple real-world locations, and an extremely accurate historical rendition of battle conditions across various theatres in Europe and Asia . After giving Empires: Dawn of the Modern World a run on our PC rig, we found the game to be infuriating at best, and far cry from the gaming experience provided by Rise of Nations.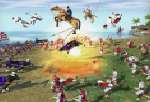 What the developers of Empire: Dawn of the Modern World tried to do was provide RTS gamers a more stylized and 'modern' version of last years hit Real-Time Strategy title. While RoN was an incredible game to play, there was no mistaking the fact that the game was based around an older 2-D RTS gaming engine, more akin to by-gone days of Red Alert 2. Empires definitely beat out its competition with some incredible graphics based around a stylish 3-D RTS engine, giving the game a crisp and beautiful presentation. As we've learned time and time again, however, never judge a book by its cover…or in this case, its pretty graphics.
While the developers at Stainless Steel Studios did a great job with the presentation, they pretty much missed the ball on teach us how to actually play the game. From the very start of the, we felt like a bunch of newbie RTS players, fumbling our way through the controls and camera positioning trying to figure out what the hell we were supposed to do. After pointing and clicking sporadically we were finally able to get the ball rolling, so to speak. We were then left with the daunting task of figuring out how to actually progress with a civilization: what resources we should gather, what units we should build, etc. Very little in-game help was available during the course of the English medieval levels, forcing us to quit and restart over and over again in order to get our bearings. Yes, tutorials can be a pain in the butt a lot of time (especially the forced ones), but this reviewer is a firm believer in at least a bare bones walkthrough of a games' command and unit structuring system. Most gamers do not want to sift through a 200 page instruction booklet just to start a game.
Once we were finally able to garner some control with the game, we found Empires to contain at least the bare requirements for a decent 3-D RTS title. Five different historical are playable in, including the Medieval Age, Gunpowder Age, Imperial Age, World War I and World War II. Each age contains its own set of playable units, goals, and strategic possibilities and anomalies with in its gameplay, adding tons of diversity overall. While combat tends to take to the forefront of the game, players will also find some additional challenge with resource management, economic shortfalls, and even a few RPG styled quests. Hero units also make their way into Empires from time to time, adding a little diversity and challenge to many of the scenarios found in the game. Once a player finishes up the single player games, the gameplay can be continued over the internet or with a LAN server with one-to-one gaming.
While its a decent game for the most part, Empires: Dawn of the Modern World just didn't have the same spark as with other similar games within the RTS market. While the graphics and overall gameplay were good, the control systems of the game felt muddled and extremely difficult to jump into. The lack of a good tutorial only added to the problem, giving this game a higher learning curve than necessary. On the other hand, Empires contains a great set of graphics, a good gaming engine, and quite a bit of diversity with its realistic historical campaigns. If you can actually figure out how to play the game right, Empires: Dawn of the Modern World might be able to provide gamers with a decent RTS experience. If you have the time, get to it…otherwise, save your money for the Rise of Nations expansion pack.



> Related Reviews

Enigma: Rising Tide (PC)
Star Wars: Jedi Academy (PC)
Tron 2.0 (PC)
Dark Fall - The Journal (PC)
Day of Defeat (PC)