Sony delivers another quality baseball title with MLB 07: The Show. This edition includes many new modes and features. The most impressive of these allows you to create a player and use them in an elaborate career mode. Expanded online offerings, including live stats updates and additional multiplayer modes add depth. MLB 07's basic play mechanics have also been tweaked with improved pitching and batting interface. The game's excellent visuals, intuitive controls and realistic play make this the best PSP baseball title yet.
While there have been loads of sports titles released on the PSP in the past two years, one of the more surprising things is how consistent Sony's first-party releases have been. The latest release from the company, MLB 07 - The Show is no exception. MLB 07 offers many of the traditional modes of play, but includes enough improvements and changes to be a worthy addition to the series. The game offers several unique modes, the most impressive of which is Road To The Show. This is an elaborate player-focused career mode where you can take a created player through the ranks from spring training to the big leagues. In this mode, you control that player, and only that player as you work through each game. As you play through the mode, you'll need to take advantage of the manager's advice and perform specific tasks for them so you can move up the ranks. It's a lot more interesting than many of the statistical management modes many other baseball titles offer and feels almost like a role-playing game. MLB 07 also includes several other standard modes including single match, season and series modes. For online players, the game now includes Leagues, which lets you play a season of games against online opponents which is really impressive. Online players can also follow their team live with the game's new MLB Broadcast mode that updates your team live as you play the game. Players can also choose to compete in a home run derby, or for sheer fun, can also play the arcade style King of the Diamond mode, which makes a welcome return from Sony's previous edition of MLB.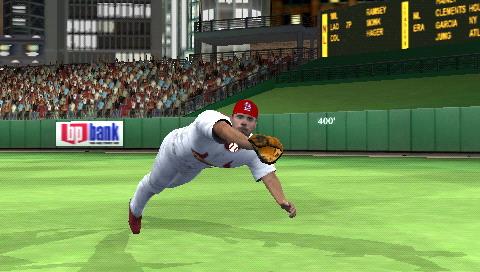 MLB 07's basic gameplay mechanics shouldn't really bother veteran gamers, since the controls and basic play is fairly straightforward. Sony has improved the game's base running which gives you better control over your runners on base. The game's basic pitching and batting interfaces are fairly good and the fielding play is fairly decent and allows you to make great catches or throw the ball easily. Two of the biggest changes play a significant role in how MLB 07 plays this time around occur on the pitcher's mound. When you are deciding which pitch to throw, you can look at the new "Pitch Command System." This allows you to see how your pitcher is doing psychologically and includes a confidence meter, which rises as you deliver strikes with that throw but declines when you give up hits. It's very easy to use and allows you to see at a glance what's working. This is an important tool which helps you to decide which pitch to throw, and which will be the most effective. Its surprisingly easy to use within the standard context of the game and makes MLB 7 much easier to play. The other main new feature of the game this time around is the new catcher AI which uses sophisticated AI to tell you which pitch to use in certain situations. This is really sophisticated and lets you battle hitters much more effectively. The advice you get is more consistent and useful than in the past and makes it easier to figure out what to thow. When you use these features together, they can act as a kind of advanced tutorial that helps you become a more dangerous and effective pitcher on the mound. Taken together, these improvements make for a much better game that's more sophisticated, flows better and offers a deeper simulation than last year's installment.
One of the more interesting online features is the ability to create a unique playing card for your created player. This can be viewed and used by other players in the lobbies to get to know you, which allows you to add even more interaction and immersion into the gameplay. Other online modes let you download realtime stats in your game, update rosters and trades as the season progresses. MLB 07 also includes an extensive set of options. When you get into the menus, you can use this to adjust your difficulty, management system, and game length. You can adjust MLB 07 in a number of different areas including playing fast games, set-up your rotations and other options for a single game, full season and management modes, along with online play. The game includes a complete license for all Major League teams and players, along with stadium and even spring training leagues. What's really impressive about the game is its realism and depth. The level of detailed stats at your disposal is impressive and helps to lend MLB 07 a much deeper replay value than you'd expect on a handheld.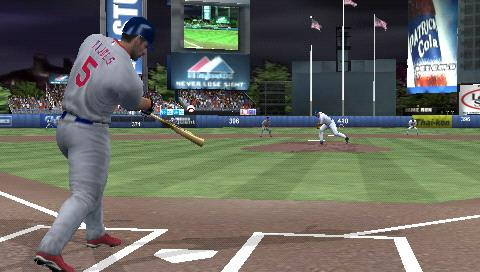 MLB 07's presentation is superb with an excellent graphics engine that creates a realistic sensation of an actual ballgame. The player models look great and move naturally as they move around the field. Its standard presentation gives you an excellent viewing angle on the field and the menus and interface can be set in such a way to become quite unobtrusive. You can also change the angles in the pitcher/batter mode to different perspectives as well. The game does an excellent job of recreating the sound of baseball as well, everything from the crack of the bat to the roar of the crowd has been faithfully recreated in the game. An excellent play-by-play commentary adds even more flavor to the game's atmosphere and creates a sense of actually watching a televised ballgame. Overall, MLB 07 - The Show delivers a surprisingly robust and deep gameplay experience that shows of the PSP effectively. Its improved gameplay in the pitching system helps to improve things dramatically, and helps to increase the tension and strategy of a professional game. Excellent on-field controls make playing the game intuitive with actions like running, fielding and throwing simple to learn. The game's production values are superb and help make MLB 07 one of the best looking and playing PSP sports titles to date and a fine addition to any sports fan's handheld library.

- Michael Palisano

Grade: B-