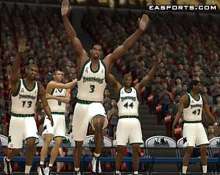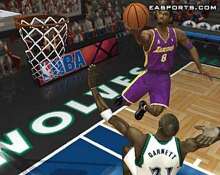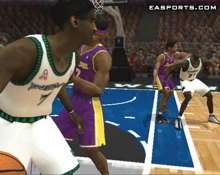 Electronic Arts looks to reclaim their basketball dominance in the market after a small stumble last year. NBA Live 2003 hits the Xbox hard with an improved engine, amazing graphics and an incredibly deep franchise mode that takes the gameplay to the next level. EA has really gone above and beyond the call of duty with this installment, including a huge roster of contemporary players as well as classic icons. NBA Live is more a basketball simulation than a mere game. Join us as we hit the hoop and find out why.
EA's long been the leader in pro-sports simulators, but last year's NBA Live took a small back-seat to Sega. However, this year's Xbox edition isn't a port, and instead has been designed specifically for the console. The result is that this is the best looking of any console game, and this installment seems to be the first that really takes advantage of the system's increased power. Fortunately, this latest installment of the popular Live series once again shows some incredible innovation. It keeps up to date with a vastly improved gaming engine that sets new standards on the console. Visually, NBA Live 2003 excels in all areas with vastly improved player models that seem more lifelike and sophisticated, giving the game an incredible power. There are loads of new animations for each player plus some brand new signature moves that amp up the intensity of the experience. NBA Live's motion capturing is extremely realistic. Each one is a different size, and they move very much as their real world counterparts do. Its all the more impressive because the players are rendered right down to their facial hair, tattoos and hairstyles. It's this kind of realism that sports-players crave and EA has once again delivered it in spades.
As you would expect, beyond the graphics, NBA Live 2003 has all the real NBA teams, players and logos. Players will also find a complete line-up of NBA teams and players. However, this is taken a step further and the game includes digital versions of NBA coaches as well, which is a nice touch. The stats are comprehensive and the game is as comprehensive and deep as you'd expect plus there's an extensive list of classic players from the 50's to the current stars are available, so if you've ever wondered how Larry Bird's Celtics would do against Shaq and Kobe's Lakers you can play and see how they'd fare in battle. This is a deep game and it should come as no surprise that multiple modes of play are included, such as single game, tournament, franchise, season and more. The franchise mode is pretty cool and allows you to manage your team, building it from the ground up via trades, free-agency, drafting. You can also create your own players from scratch and play an entire season to try and reach the playoffs and the championship game.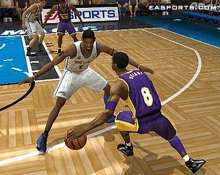 Once you hit the court, you'll find an intuitive interface that's easy to understand, with passing icons making things simple. NBA Live 2003 also includes a tutorial which should help you get your footing. The controls have been finely tuned this installment with passing and shooting system is is intuitive, and you can toggle player names on and off during play. However, the biggest change in Live 2003 is the new Total Control System where you can individualize your moves using the Xbox controller's right thumb-stick and play "Freestyle" giving you the ability to make your own steps on the court. This allows you to have incredible control to a degree that's never been seen in any basketball game to date. Players can now control both of the player's hands simulatenously. When you get the hang of these controls, you can block shots, make incredibly fast steals and even do some fancy dribbling down the court. While it seems like this kind of system would add too much complexity to the game, NBA Live 2003 implements the new system in such a way to be both intuitive and fun.
Using the Freestyle commands in succession allows you to string together sets of moves, such as fast turns, fancy passing. These are relatively simple to perform, but there are some really incredible advanced moves like being able to dribble the ball while running, cradling the ball from your opponents, and spectacular dunks that make you feel like you're really in control of all aspects of the game. This dual approach allows you to control the direction of spins, use your arms and move in your own style. NBA Live 2003 does a good job of making you feel like you're in complete control, giving you a much greater degree of freedom to move your player. This system is quite intuitive as well, though a few minutes in the practice court will allow you to get the hang of things easier. Once you hit the court, you'll find that the practice sessions pay off big time. NBA Live's controls are versatile and allow you a sense of smooth control, without sacrificing gameplay speed. This new freestyle approach makes a major difference in how the game plays, adding more complexity, yet fitting in seamlessly with the other controls in the game. NBA Live's controls are intuitive and easy to understand, whether you're on the defense or offensive.
The gameplay is much better than last year's edition, with a much smoother feel and better AI that makes for much more challenging opponents that charge the net more aggressively. Defensively, players have a better sense of where the ball is headed and they seem to anticipate this better than you'd expect them to. This makes them perform much more cohesively as teams,, giving the armchair coach a better feel of their strengths and weaknesses. NBA Live seems a little faster than last year's edition, which makes the game much more exciting, though it doesn't lose the depth that the series has become known for. You will find deeper playbooks and the players themselves seem to react much better, changing their tactics to your moves on the fly without much effort. NBA Live's franchise mode has also been enhanced, and the moves you make off-the-court seem to have a much bigger impact on what happens during the game.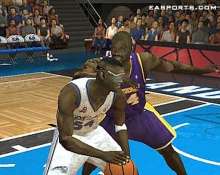 There are a bevy of options available that include several different camera angles which you can zoom in and out for the ideal position, change the distance, and turn the players indicators on and off. As stated earlier, NBA Live has an outstanding visual polish and gamers can select from many hip-hop tracks from Bust Rhymes, Snoop Dogg, Fabolous and others, which definitely captures the flavor and excitement of the sport. This music is also included in a special bonus CD that comes with the game. NBA Live also includes play-by-play commentary from Marv Albert who does an excellent job in describing each game. However, you can change the background music, and turn off the commentary if this gets on your nerves. Other options include changing the length of each period, the foul sensitivity, and trash talking to name a few. While it takes awhile to get used to, NBA Live 2003's new control system lives up to the hype, giving you a level of realism unmatched in any console basketball game to date.
NBA Live 2003 represents a vast leap forward from last year's installment and show dramatic improvements in every department. The visuals and production are top notch and really set a new standard on the Xbox with improved player models and animations giving it an incredibly realistic appearance. Much-improved play mechanics make the game flow much better and the controls have changed for the better by the much-vaunted Freestyle controls that allow a much greater maneuverability and personality from each player. These definitely live up to their billing, and add a new dimension to the gameplay. Stats freaks will also enjoy the deeper and more robust franchise mode that will keep them happy over multiple seasons. This is another big leap forward for EA Sports and basketball fans won't want to miss what is likely to be the season's best title.




> Related Reviews

NHL FaceOff 2003 (PS2)
NFL 2K3 (PS2)
NBA Shootout 2003 (PS2)
NCAA GameBreaker 2003 (PS2)
NFL Gameday 2003 (PS2)
NCAA Final Four 2002 (PS2)